You should design your kid's bedroom as something she or he will remember as a fun-filled experience. While you hunt for your kids bedroom ideas look for something functional, practical but yet fun-filled, and challenging. We have listed some tips and tricks here to decorate a swoon-worthy room for your children. If you are doing it for the first time or redecorating it, we have got you covered.
1. Simple and spacious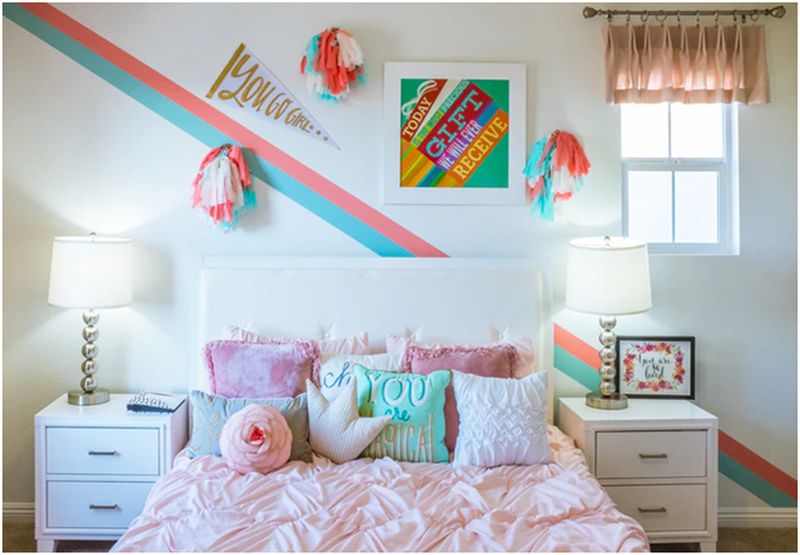 Keep your child's room uncomplicated and spacious, thus he will get more room to play. Also, kids are not so cautious about things, more furniture can hurt them while they bang with those while playing. Moreover, more left out space will give him or her options to add on as they grow.
People suggest giving importance to playtime and thus leave more open floor space.
2. Things to play
Add on the things in the room that they love to play with, such as an indoor swing. Or a whimsical bed framed in the structure of a house or even a ball pit. If it's for a girl, put in girly stuff that is both fun and stylish. You can also add things according to your kid's interest like a chalkboard or a small art gallery.
3. Storage
Kids normally have a lot of stuff like their toys, books, games, and many more things that are unnecessary to us. As they grow up their need for storage space will increase even more, so build something adjustable. Also, to increase storage space append wall hooks, under-the-bed storage space, wall mounting book rails, or even built-in storage furniture.
4. Colors in the room
Kids are fickle-minded with their colors. Your girl might love Fuschia pink now but may get bored of it in a few years. So you have to play smart while painting your kid's room to avoid repainting it after few years again. A smart solution can be to put a rainbow of colorful accessories while keeping the wall neutral colored.
5. Patterns and texture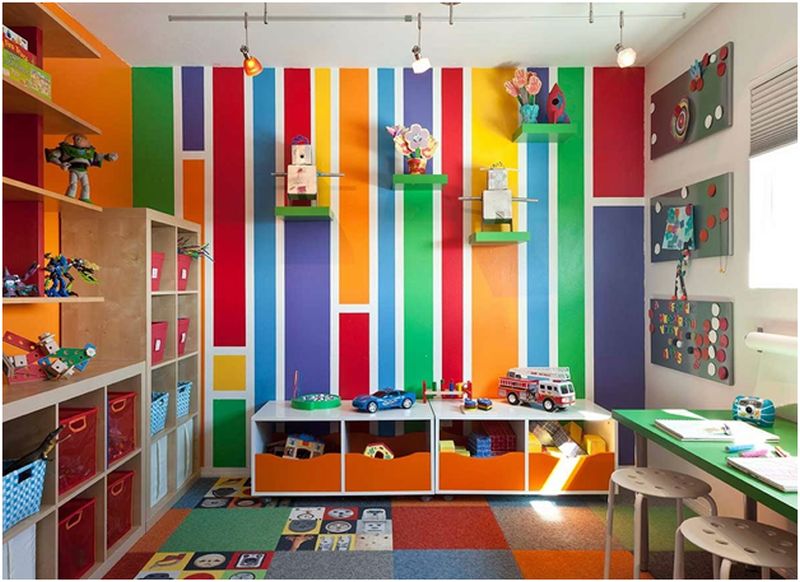 Attentive use of patterns and textures can change the whole picturesque of the room. It can make it look as attractive as the ones you see on Instagram or Pinterest. If you are designing and taking the help of a professional for yourkids' bedroom ideas, he will suggest this. Patterns and textures can change a simple black and white room from blah to bliss.
6. Workspace
If you have the space after creating the bedroom, give them a space to keep their minds busy. They can write or color or do anything creative there which will help them in mental and physical growth. In addition, as he grows older he can use that for his school or college work or study.
7. Cozy corner
Incorporate a teepee or a nighttime reading corner or a cozy corner in your kids' bedroom ideas. You can transform a teepee into a comfortable corner in your child's room, by just adding some pillows, cushions, toys, and fairy lights. You can squeeze in with your child at bedtime for their favorite stories.
8. Increase play space
Do this only if space allows increasing their area of playing in the room. As their height will be small, and the ceiling height is tall, so you can add a play bunk on top of their bed. Thus you can design a low floor bed and can have access to much more unused space in the room.
9. Monotones for a mature look
If you have no plan in changing the wall colors till the children turn into adults, go for a neutral shade. A monotone or natural color can last till the in teens, but add bold colored furniture to add that bling. You can add teal for a classic yet playful look.
10. Mural
A fun or an artistic mural can change the whole view of a monotonous room. So, those who prefer a neutral shade so that it lasts a decade, add a mural. It can be something that reflects your child's personality or add another detail to the room.
Look at your set budget and be as creative with your kids' bedroom ideas as you can. 
Article Submitted By Community Writer