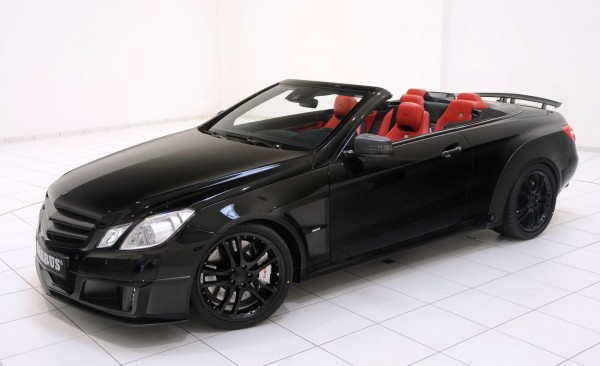 Had enough of tuned cars already? Think you can't handle another one? Well, then a look at the newly launched BRABUS 800 E V12 Cabriolet might just change your thoughts. Oozing style and power from every inch of its body, this shiny new vehicle is a modified E-Class Mercedes convertible designed by the well known German tuning company, Brabus.
Inside BRABUS 800 E V12 sits a modified engine taken from the Mercedes-Benz S 600. Enough tweaking has been done to breathe a new life into the engine of the E-class convertible. A special crankshaft for longer stroke, larger pistons, cylinder heads optimized for mixture flow and sports camshafts arm the V12 engine with an increased displacement capacity, from the usual 5.5 liters to 6.3 liters.
That's not all, the BRABUS E V12 Cabriolet is also endowed with a special exhaust mechanism. Integrated turbos for efficient turbocharging, four water-to-air intercoolers, a stainless steel high performance exhaust system have been added to the V12 engine. The result is a bumped up horsepower of 800 making it the "world's fastest and most powerful convertibles" in the market.
Further modifications such as the 5-speed automatic transmission unit and a high performance limited slip differential with a locking rate of 40%, designed specially by Brabus give the BRABUS E V12 Cabriolet an incredible high speed of 231 mph (370 km/h) in just a few seconds. In mere 3.7 seconds, the machine not only comes to life but also reaches a speed of 62 mph (100 km/h), amazing isn't it?
If you are worried about the safety and stability of your car, you need not be, as Brabus has taken care of that too. The modified cabriolet has a wider body and the components are made from ultra-light carbon fibers with high strength. For further control, the car has been provided with a special suspension system that offer a wide range of individual suspension settings. It also allows you to adjust the height of the driver's seat to suit your personal preferences. Along with these the high performance, ten-inches wide tires ensure that even on high speed the car wouldn't lose its balance.
BRABUS E V12 is not only about power and speed, but also about style and elegance. The insides of the convertible is clad in a perfect finish lipstick-red and black leather. The steering wheel design meets the ergonomic demands quite fairly and the inlays made from carbon fiber add a sporty look to the cockpit. The LED driving lights, the gloss-black wheels and the black paint job on the rear wheel arches make the car stand out proudly in a crowd.
This beautiful and rich looking mean beast, BRABUS E V12 was first unveiled at the United Arab Emirates branch of Brabus. The power and the rich look comes at a hefty price starting from €478,000 (about $671,122).
Via: Diseno-art