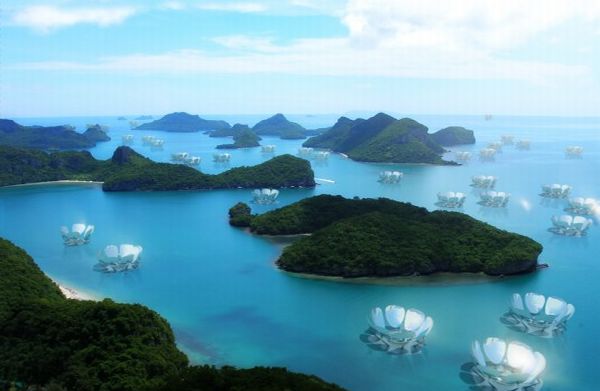 Sustainable energy production units have so far been known only for their drab, industrial-looking exteriors that frankly don't really "go" with most decoration schemes. But The Why Factory is tackling that problem in the most innovative way ever. Led by architect Winy Maas, the research group's latest project consists of a series of oversized water lily-shaped islands that float in water bodies, soak up sunlight that otherwise goes unharnessed in that region, convert it into energy, and feed it to the city's power grid.
The artificial islands were created specifically as an entry for the exhibition titled "Water- Curse or Blessing" at Berlin's Aedes am Pfefferberg and propose setting up of these energy-producing sculptures around the coastline of the popular holiday destination, Phuket in Thailand.
The fantastical design focuses on development of sustainable energy producing infrastructure around Southeast Asia where traditional resources of energy production are often strained. Even though the majority of the population lives near large water bodies, this region is still severely affected by shortages of potable water and calamities such as droughts and floods. Why Factory's water lilies project looks to work as a sustainable energy powerhouse that is functional as well as beautiful to look at and provides a source of income in the tourism-oriented economy.
The water lilies blossom with their faces towards the sun that allows maximum capture area for sunlight to be soaked up. Each boat-accessible floating island also houses a platform that provides an unprecedented view of the surroundings. The large scale project is still in the conceptual stage for the time being and we sure do look forward to prototype floating water lily islands to be up for a demo of the concept soon.
Via: Inhabitat