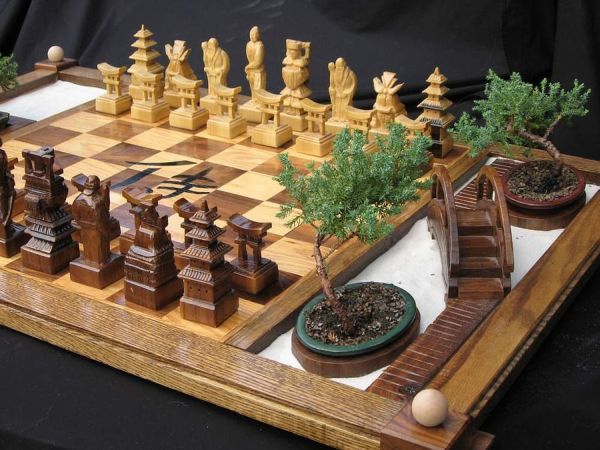 In case you thought that the game of chess lacked aggression, think again! This absolutely astonishing Samurai themed chess set promises to bring all the high-flying action from your favorite sword swishing movies right into your Sunday afternoon game at the herbal tea place.
The handiwork of Wilkes County, North Carolina-based woodcraftsman who goes by the name of chessmkr1, the set is surprisingly detailed and captures the theme perfectly. The pieces in the set are carved out of Walnut and Poplar with the tallest pieces (kings) standing in at 7" tall and the smallest pieces (pawns) measuring in at 3.5".
The 40" wide board houses mini sand gardens complete with a wooden walking path, a small bridge and even a few bonsai trees adorning the space. Not the most common feature in a chess set, but since the pieces are not fully jazzed up (they're mere painstakingly carved out wood figures), the garden adds the extra dash of élan to the set!
Via: Lumber Jocks