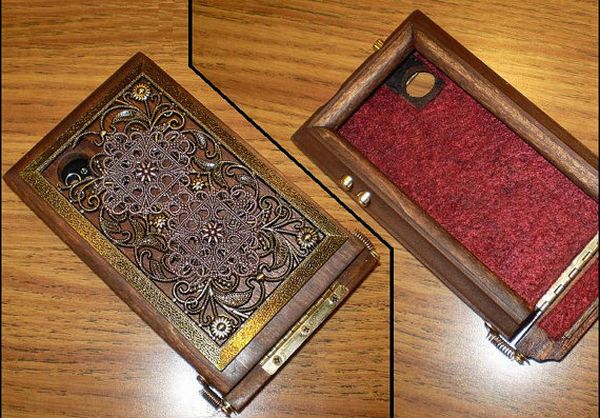 I love steampunk and all the brassy marvels they have rolled our way since way back when, but when someone tries to out-punk the Apple of our eyes, they should expect a lot of eyebrow raising to come their way. I mean half the fun of owning the latest iPhone is being able to show it off, isn't it? But I suppose it really does take all kinds to make up the world, and if you wanna take your steampunk obsession to work with you, these brassy cases make a solid investment. Literally.
The iPhone 4-specific steampunk case is finished in an English walnut seam that encases the device like a picture frame while a brassy decorative mesh protects the screen. This makes the phone less instantly operable but as they say, beauty comes with a price. The phone itself is protected from the brassy hard exterior by a cranberry-apple felt that cushions iPhone. And adding to the fuss that steampunking demands, the ever so simple act of connecting the phone to a USB chord has also been complicated and you would have to remove the case from the iPhone via a spring operated door to use the port for accessories.
The iPod Touch-compatible model features a die cast metal brass plate for the back and the front has been done in a pressed wood fiber with "burl-brass" paint job while a golden-colored pinstripe frames the screen. The "Home" button is crafted out of wood and comes with a brass bezel that gives it the semblance of a door buzzer from the 1920s.
At US$55 (iPod Touch) and US$70 (iPhone 4) each, the steampunk cases may not cost as much as a swarovski and platinum bedazzling, but since the brass and wood adds to the bulk significantly and since no one would ever wanna have to unlock a tiny brass door to get to their phone's screen, we see the cases being a novelty item at best.
Via: Chip Chick