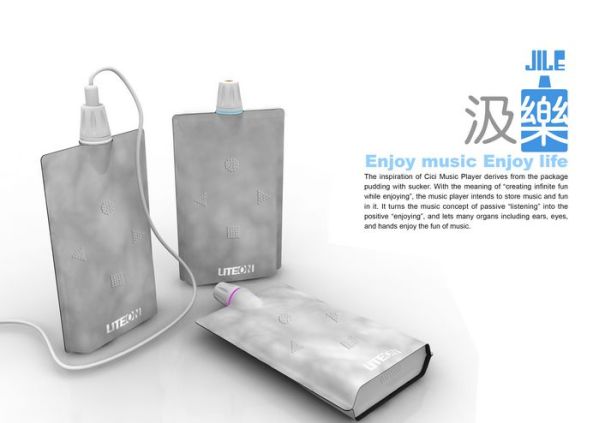 The inspiration for CIC Music Player comes from the popular pudding-in-a-pouch phenomena. Just as you would need to run your fingers over the pouch to squeeze out the liquid candy, you can similarly use your hands to squeeze out your tunes. Sounds complicated, but the CICI Music Player Concept by designer team of Chen Fejun, Wang Xinwei, and Xi Zheng have taken the otherwise one-dimensional experience of listening to music to a whole new level where you are required to engage more than your sense of hearing.
The concept was created for the Liteon Contest and looks to make the ordinary music player more interactive via an innovative interface. By replacing the hard shell of the conventional music players with a more fluid and softer "pouch", the design instantly challenges the listener's established view of what the experience is supposed to "feel" like. The electric components and the battery are designed in module which is tiny and flexible and also do not affect the feeling of touch while operating it in use
The music player is concealed within three clever layers of PE/AL/OPP that prevent it from bending out of shape when the user squeezes the pouch. The electric components are housed in the mid segment of the player with a liquid silica gel around the casing providing further cushioning to the electronics. To operate, simply slide your hand over a touch-sensitive button.
Two CICI music players can be directly connected so that users can share their favorite music with friends via a USB port that can also be connected to the charger or headphones. The lid hides the revolving volume control further adding authenticity to the instant snack themed-interface of the design.