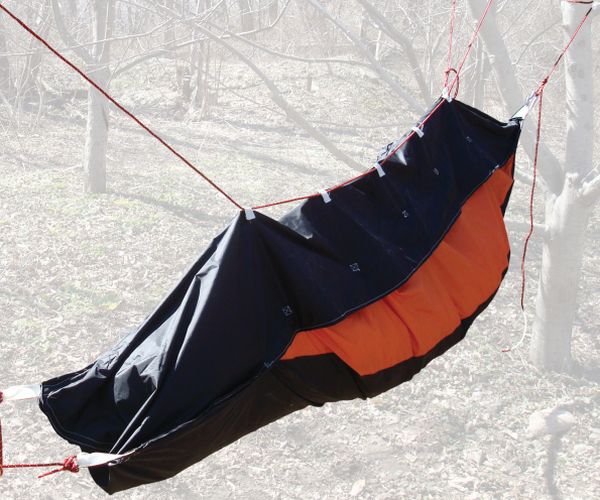 Do you love hiking and always detest the weight (includes your sleeping stuff) you have to carry on your shoulders? If you just nodded your head in a big yes, then read ahead. Jaren Downs is out with Soft Good-Backpacking Shelter, which will make all hikers jump with pure excitement.
The designer has tried to club four products in a single backpack. This would mean dumping all additional gear, which will in turn cut a lot of unnecessary weight. He has ingeniously combined a bivy, hammock, sleeping pad and a cushion in a single backpack. The main aim was to bring together products that shared the same material, construction method and use. A lot of existing products were thoroughly searched before narrowing down on the final four. When out in the wilderness, it can become difficult to sleep on the ground if it has just rained. But, fret no more! Simply, string up the hammock and stay off the wet surface. Ambiguous weather conditions and areas may require different kind of sleeping arrangements and Backpacking Shelter provides exactly that.
In the absence of trees, all you have to do is roll out the bivy and put the sleeping bag inside for apt use. The seat cushion will solve multiple purposes and lend comfort. It can be either used as a support (from the knees to the feet) or as a cushion to sit on while cooking and chit chatting. Bivy and hammock were two parts that needed maximum attention while crafting the product. The designer made good use of multiple points that would be used to string up the hammock. This will reduce stress from the shoulders of a hiker while sleeping unlike the traditional hammocks that just have two points, which produce a lot of stress on the hips and shoulders.
Five loops are present across the shelter that will be used for running a guyline through for shredding water. Further, five pieces of Velcro will be used to close the unit. Water won't enter the structure, thanks to the opening that overlaps. Backpacking Shelter will reduce the number of items required while hiking. It can be easily rolled up and carried from one place to the other. This will also save money and weight carried on the shoulders.
Lastly, a well organized bag pack can help you avoid all the trouble and make your journey even more exciting. Don't forget to include all the necessities like tents, food, dry cloths, and first aid box and off course a nice pair of best hiking boots and socks. After all hiking is all about walking miles and miles and it will avoid abrasion and blisters. And last but not the least; pack your bags in advance so that you do not miss out important things.
[Thanks Jaren]