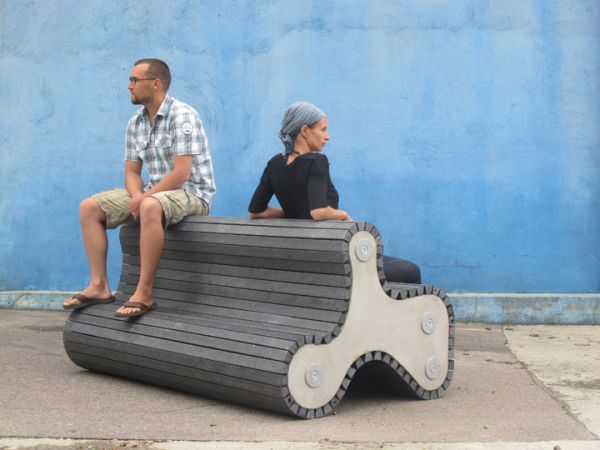 If you are the mayor of a town or the head of the parks & rec department, this super-cool public seating idea would delight you for sure. Created by designer Margus Triibmann, Klimp City Furniture is not only made up of recycled and planet-friendly materials but is also a fun and dynamic addition to the urban environment. The flexible pieces have been created to mimic the comforts of a traditional park bench but are made to appeal to our sense of humor as well.
The cozy pieces may look a tad much with their goofy proportions but are crafted to be comfortable and come with contours that provide maximum comfort to users. The contemporary piece of furniture is also weather and vandal proof, making it an ideal investment for public spaces.
Klimp can be made in two variants, with the regular traditional park bench featuring a concrete supporting structure that gives the bench stability and strength while its open boarding made from recycled plastic bars provide it a smooth and public-friendly interface.
The lighter version, oriented primarily for home users, features a polyethylene (PE) frame that functions as the supporting and joining element making the design ideal for backyard use. Standing in at 902 mm x954 mm x1900/800 mm, Klimp may not be the slimmest seat/bench out there, but it does double up as a handy and fun outdoor sculptural installation which more than makes up for the space it consumes.
Via: Keha3