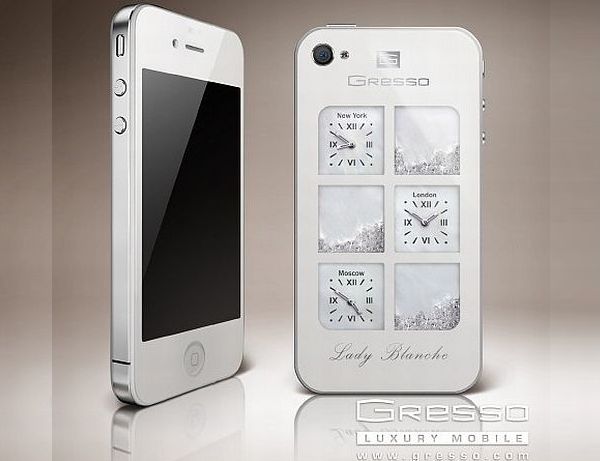 They say diamonds are a woman's best friend. They are pretty, sparkly, expensive, rare and an instant hit with most women. Gresso, a Swiss company that brings you luxury phones knows this quite well and that is why they have introduced their new diamond and crystals embellished luxury phone, the iPhone 4 Lady Blanche, specially for women. The new line of luxury phone is an extension to their already existing iPhone 4 Time Machine Collection.
The new collection comes in two different models, one of which is made of white diamonds while the other is made of Swarovski crystals. The back of the iPhone 4 is fitted with three independent Swiss clockworks which tell you the time of three different time-zones – New York, London and Moscow. A handy addition while you are traveling abroad. The dials of the three clocks are made out of pearl and decorated with 0.01 carats each of white diamonds or crystals.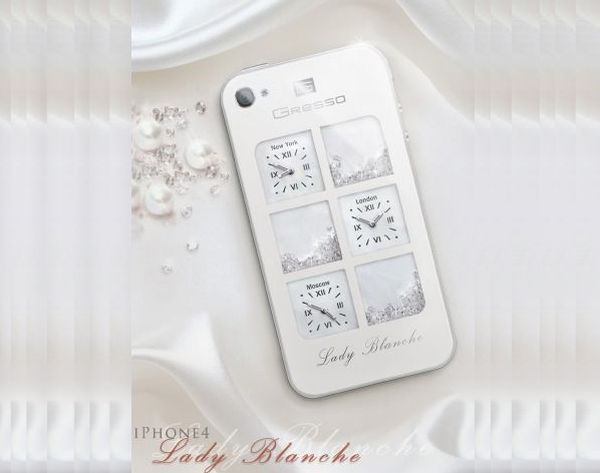 Each of these clockworks have a box adjacent to them holding diamonds and crystals, which are free to move inside the box. This adds on to the sophisticated and elegant look of the iPhone. To create a further dazzling look, odd numbers of crystals have been placed so there can be multiple refractions. That's not all, these precious stones have also been highlighted using the soft glow of "natural Antillian mother-of-pearl La burgaudine."
A solid diamond coated mineral glass frames this dazzling beauty, making the iPhone feminine enough. According to the Swiss company, the rear panel of the phone is a result of several hundreds of hours of work. And, going by the look of it, the phone sure does appear quite luxurious and dazzling. If you have piles of cash on you or want to gift something unique to the woman in your life, then the iPhone 4 Lady Blanche could be a perfect grab for you. The iPhone 4 Lady Blanche Diamonds collection is priced at $30,000 while the iPhone 4 Lady Blache Crystals sells for $7,000.
Via: ChipChick/ TechCrunch