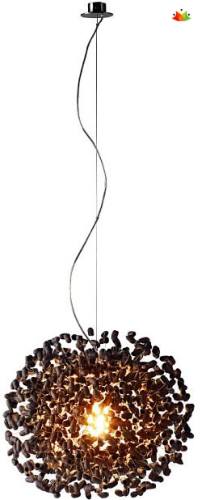 Designer Angus Hutcheson, of ANGO fame, after setting up his own architectural firm in London, relocated to Bangkok in 2002 where his designs flourished due to the impact of the nature-gifted environment. ANGO came to being in 2003 as a symbol of how we can live alongside nature in a technological world.
Hutcheson makes ample use of renewable, materials including silk cocoons, hand polymer, tree bark, raw silk and timber while creating his hand made lighting products. The midnight moon is a brilliant ceiling light, crafted out of silk cocoon and steel.
The designer makes use of the natural and unprocessed cocoons for fabricating the awesome midnight moon. The diffuser is made of a random arrangement of silk cocoons, each of which is attached to a hand soldered wire matrix. Each silk cocoon is attached to strand of wire, and the first strands are further attached to a hand brushed stainless steel frame. The silk cocoons layer up gradually to form into the clustered piece of lighting.
Certain designs make use of the ebony colored silk cocoons for the diffuser, where the cocoons have been dyed using a non-toxic fabric. But most of the designs use the natural soft white color that yellows a bit with age. You do not need to worry about the dust that settles on the diffuser, for the removable diffusers can be conveniently sent for dry cleaning!