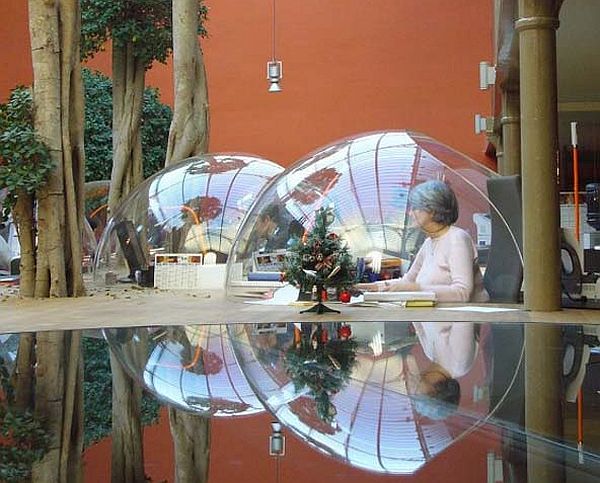 Recreating the extra-terrestrial feel in an office can turn out to be more earth-friendly than just a flamboyant intergalactic plan. Parisian architect Christian Pottgiesser has purposely done that while revamping the office headquarters of two French companies Pons and Huot.
The office is refurbished to offer a huge open space was originally a 19th century industrial hall. The steel frames have been painted and repaired while the restructured self-cleaning glass canopy will help stream in whatever natural light possible to the wide-open space below. The hall has been further serviced to accommodate about fifteen office-staff, with seven personalized office room for each director and one open space with blossoming plant life for the remaining executives.

Apart from these are the utility areas like a meeting-room, a common recreational room, a kitchen and rest rooms for the employees. To meet the owner's demands of something unconventional and futuristic Pottgiesser came up with Plexiglas half bubbles of 1.80 meters in diameter to serve dual purpose of concealing noise and also providing each employee a more imaginative cubicle away from the usual grayness of office environment.
The structure is fully done in oak wood structure lined with steel underlying trimmings. The 'amoeba-shaped' office desks sprawling over 12.5 x 21 meters of space are intended for unending imaginative usage. The spacious meeting area ingeniously conceals itself below these desks and offer privacy, confidentiality and exclusivity. It can be approached from both ends of the structure.
The haphazard vegetation inside the hall enhances the imagination and congeniality of the employees and creates a humorous sensation of living in space yet being close to earth.
Via: Factodesign