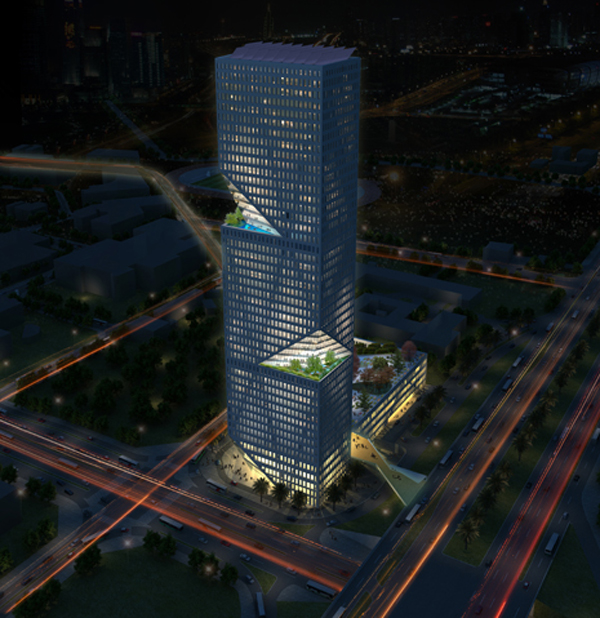 Around the globe, a set of avant-garde buildings is forming the new city skyline that focuses on volume and multiplicity of purpose and in the same time offer sustainability.

WORKac , with their Shenzhen Metro Tower project, has initiated an appreciable effort in this direction bringing in diversity in the lines of the pragmatic style of Shenzhen Metro Corporation and infusing it well with eco-consciousness and their own style of surrealistic architecture.
The imminent tower named as the Shenzhen Interchange, holds an attractive landmark position being at the metropolitan cross-point of the underground Metro, significant horizontally intersecting boulevards, ground-level bus station, shopping podiums and important central offices and hotels. This position makes it all the more crucial for the venture to become more of an architectural statement for the New York based WORKac designer group and the neighboring area as well.
The building is themed on systematized diagonals derived from the metro routes, which diagonally crosses the building and give it its exceptional flavor. Going by the imperative offices, hotels and community spaces housed in this building, the focal elevators at upper floors will assist the hotel guests, office workers and others metro commuters to effortlessly reach the metro lobby inside the building to access their respective destinations .
Furthermore, the NY based designer group known to engage culture and consciousness, nature and artifice, surrealism and pragmatism, laid another twist to this novel architectural wonder by building the "green pockets" to create a visual balance of eco-urbanism.
The tower came up with distinct harsh slices. These slices gave way to green turfs that configure the actual effectiveness of the structural form of the tower. Other than compensating for the austere cuts of the building, these chiseled-in greenery, marks the different predetermined zones of the building and also forms the basic backbone to the water sustainability of the tower.
The floors underneath each slice assist constructional combinations and provide space for natural water filtration systems for the tower. The tower hydrology stresses in a big way on rainwater harvesting. This water circulation is brought about from the green pockets of the building present on all levels of available open space, be it the platform or podiums, and rooftop. Each functional floor maintains its own water circulation system of collecting, processing, storage and utilization.
Stressing the eco-balance theme further, the tower and the platform below will include rooftop solar panels to power water-pumping stations throughout the tower and provide supplementary energy for the entire building.
The Shenzhen Metro Tower is an edifice of wider exchange and meeting of several ends and thus called an Interchange. It is more a vertical city "linking the underground to the sky" that entwines anatomic and practical abundance with space efficiency while consigning balance of vivid technology with sustainability.

Ref Link: Shenzhen Interchange