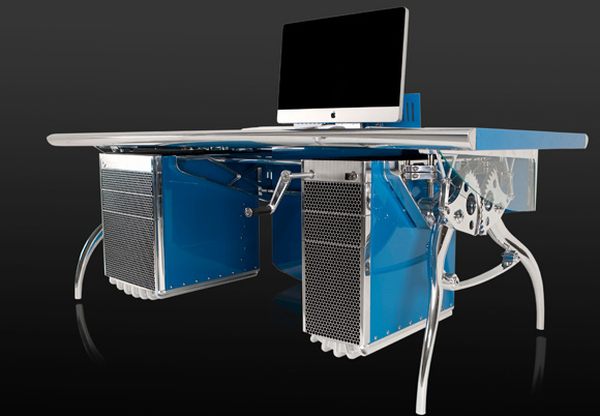 Name Bugatti and a high performance automobile will zoom through your mind. Designers have derived heavy inspiration from automobiles to craft everyday stuff, which ranges from furniture items to gadgets. Luzzo Bespoke, taking this a step further, has designed an Executive Desk which comes with a price tag of £150,000 ($243,425).
Ideas have been churned out of details that ruled the Bugatti Grand Prix racing cars in the late 1920's and early 30's. All these details were mixed and matched, which generated various forms for an eye-appealing appearance. The sumptuous furniture item has been wedged with a monitor, which can be pulled in and out easily. A swanky version of Winfield carburetor synchronization quadrant from a Type 57 has been used in a skilful manner to form drive gears. These drive gears are responsible for the height adjustment. The desk has self closing lockable drawers, with a front, that has been draped with a grill to look like a honeycomb.
A good 3000 hours of CAD, machining, polishing, sheet metal work and lacquering went into the creation of this awesome piece. The desk beautifully holds an Apple Mac computer, which has a property to disappear at the click of a button. Surprised! Well, it comes coupled with motorized system that makes the computer sink in the desk like magic. The desk has Bugatti inspiration sprinkled all over. It comes caked in French racing blue lacquer and a tan leather writing area, which are a clear reflection of Bugatti's from the 20's and 30's time period. Most of the parts have been fashioned out of aluminum frames swathed in riveted aluminum sheet.
Bugatti Grand Prix car inspired desk is for people who love luxury cars, and want to possess extraordinary furniture items.
Via: Bornrich