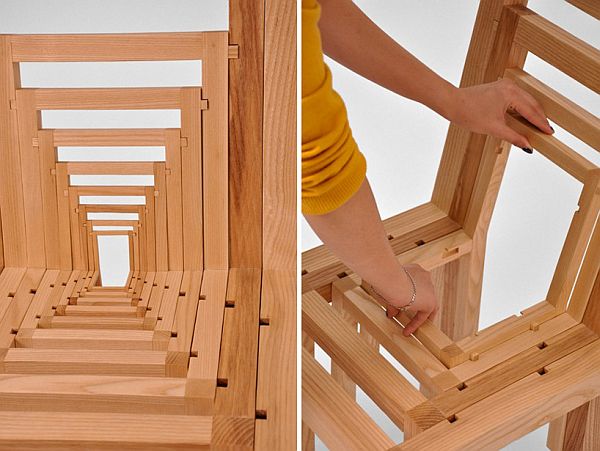 All of us are frankly intrigued by optical illusions, though it's the last thing to expect as an important visual element of a seemingly mundane piece of furniture. But that is exactly what Vivian Chu has achieved by adroitly contriving the Puzzle Chair. Actually composed of numerous small chairs 'nestled' within each other, it was done in a clear allusion to the concept of dreams within a dream (though I wouldn't give anymore of Inception's spoilers).
Basically consisting of 10 chair frames that fit into one another via hand-cut grooves (cut out of inner edges), pegs on the outer end of each frame easily conform to the indentation of the previous smaller sized chair. And with the whole fitting mechanism, it creates a unique effect of a multi-pillared hallway from all angular visual perspectives of the chair.
The gallery is there for you to gleefully gawk at, and before you go further tumbling down the 'rabbit hole', let me tell you all the images of this wondrous conception are totally real.
Via: DesignBoom