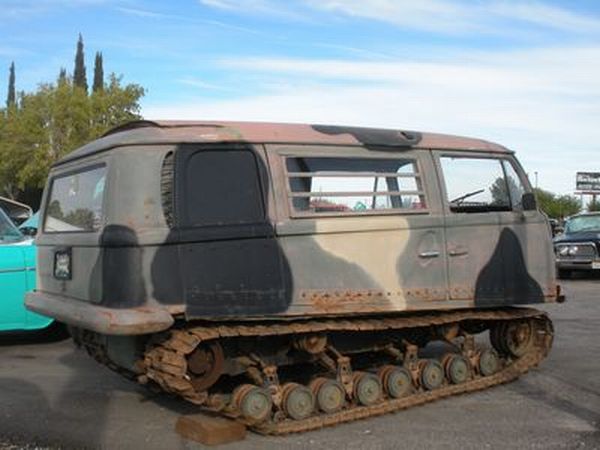 Milking money by auctioning useless old stuff is nothing new. But, adding up two old things to destroy someone's pocket is absolutely unusual. Well, if you are of the opinion that the latter won't take place, I have this 1945 Studebaker Weasal Tank to zip your lips.
This half bus, half weasel tank is all set for sale in California. The car dealer in the city–probably one who modified the rusted weasel tank by adding the bay of the Volkswagen Bus–is just looking forward to exchange this weird creation for the price that is unlisted, which is for sure going to burn your deep pockets. Before you start observing the photographs, let me tell you a bit more about the tank. Designed to combat the enemies during Second World War, M29 Weasel–that was built by Studebaker in 1945–retired from its service decades ago and somehow came into the hands of the a local car vendor in California. It was then that this person added the Volkswagen bay to make some good money. 1945 Studebaker Weasel Tank had a 70 horse power engine with a top speed of 35 meters per hour. It is 196-cubic-inch.
If you have deep pockets and feel like getting home this weird half bus, half tank, all you got to do is approach the car vendor. Now, don't think you can drive home this vehicle. It acts as a decoration tool in front of your home.
Source: Jalopnik