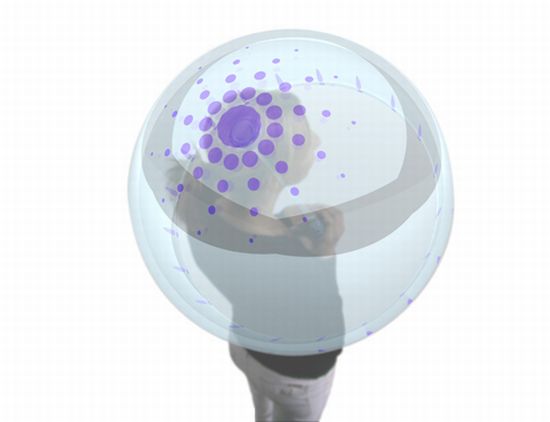 I have always taken this for granted. When people go out in the rain, all with umbrellas, there is bound to be unpleasant bumps and pokes in the eyes, followed by verbal abuse. It seems somebody actually though this can be changed, and came up with a gadget to stop people from getting on each other's nerves. The Bumpbrella concept (cute name, isn't it?) is a see-through device which keeps your view from being blocked. Consequently, the number of people you bump into is supposed to drastically reduce.
Even if you can't help bumping into people, you can spare them the poke in the eye. This continues to be true even in the dark, thanks to the three bright LEDs which allows you to see and be seen clearly. The Bumpbrella is convenient in the sense that it can be inflated easily with the help of a hand pump and deflated at the pull of a handle. So it doesn't take up too much precious space.
Now tell me honestly, how many of you would be willing to invest in the Bumpbrella, inspite of its cute name and looks? Personally, I wouldn't be caught dead walking down the road wearing that gigantic thing on my head. It might be a fun thing, a unique item, but most definitely not a necessity.
Source: RKS Design