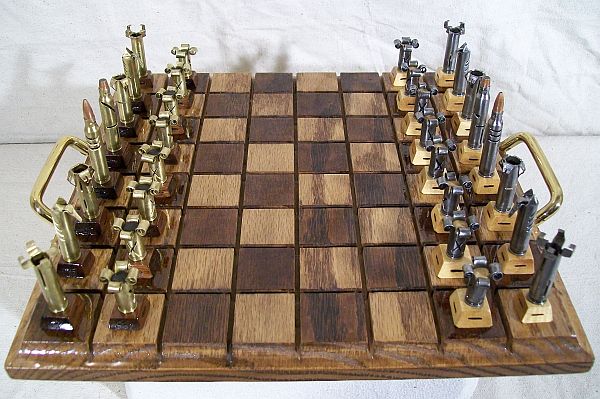 It is said that, due to the advent of science and technology, indoor games today are losing their identity. They are not given the desired value or importance as they deserve. How much do you agree with this statement? It may be, to some extent, true, but not absolutely. Anyway, if that was the case, famous US chess master like James Evade or India's Vishwanath Anand must have not earned fame at all. For that matter, 'Olde World Collectibles and Creations' has launched a brand new bullet chess set of .223 caliber.
This unique model is made up of steel casting on the one side and the brass casting on the other. The ones on steel side are having red oak wooden bases, while the brass side counterparts flaunt black walnut wooden bases. The only four pieces with an actual bullet re-set in place are of course, the kings and queens. However, it has to be noted that there is no live shell present over here. Each piece is 1 ¼ to 2 ½ inches long.
The exciting part of this board is that it is made quite attractive by a solid piece of red oak, decorated with two brass-carrying handles! It is one of the best items offered by 'Olde World Collectibles and Creations'. So, wouldn't that be interesting to play on such a traditional, decorative and comfortable chessboard? If you are a hardcore chess player, you'll surely fall for it. So, start playing with bullet chess set. Victory is waiting at your doors!
Source: Olde World Collectibles