Most people don't know what a wall pocket is. Most people don't even have a use for wall pockets. But if you are in a line of work that requires you to have a lot of different types of tools and trinkets stored close to your workbench or simply want to keep these out of children's reach, a wall pocket could be just the storage solution you need. These handy yet petite storage bins can be easily installed on the wall though pockets made of wood often don't stay put. However, this new type of wall pocket created by a Cincinnati-based outfit comes fashioned out of 100% recycled cardboard that makes it superbly lightweight and easy to install as well.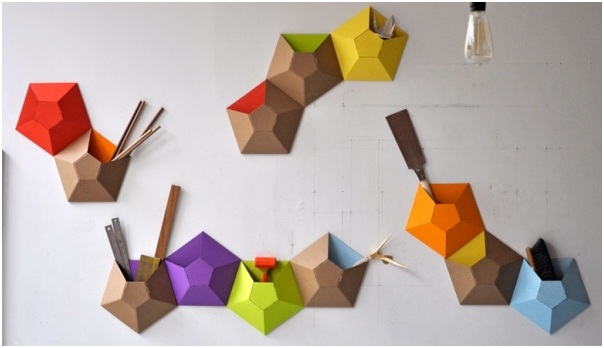 ---
These pockets come in a reversible construction that allows it to be used on either side to provide a visual change to the user. Each of the pockets features a geometrical design that creates an interesting texture on the wall as well. Users can install the pockets on the wall to create bespoke patterns and arrangements according to their needs. The pockets also feature an adhesive-free assembly that gives them a longer life span. The pockets are die-cut which means that their edges are less prone to fraying and breakage. The wall pockets feature an open end that allow users to store trinkets or small tools like rulers, pencils, pens, brushes, tubes of color or paint, the occasional smartphone and even keys.
These pockets can be installed in any room of the house though users should avoid installing them in bathrooms to prevent moisture damage to the units. Each pocket is constructed out of e-flute cardboard which is superbly green and also quite durable which allows them to withstand humid and extremely weather alike. The wall pockets are shipped flat to prevent undue wastage of packaging materials.