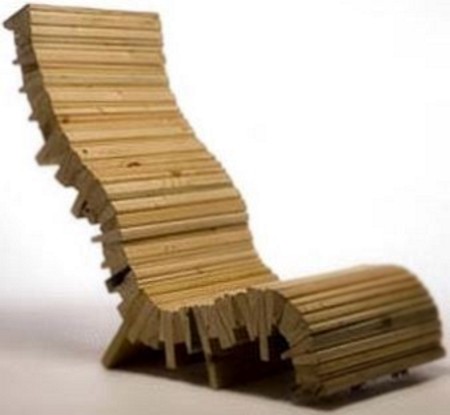 The term 'recycled furniture' sounds a bit inappropriate to describe these unique chairs by Claire Danthois. Infact, reincarnation would be the perfect term.
The chair that you see here is a part of Danthois' Once Discarded range. Taking the concept of recycled furniture to a new level, Danthois has created his range using reclaimed timber and assembling them with cable. Danthois has refrained from using any sort of grease paints to decorate his chairs, thereby deliberately giving us an idea about the previous use of the timber that went into his creation.
Each chair is a reincarnation of some old furniture. The one featured here clearly shows that it is made using wood from a discarded door.
The chairs are available in a variety of shapes and designs. You can even have one made from your own old or un-used wood.
Contact the designer for further details.