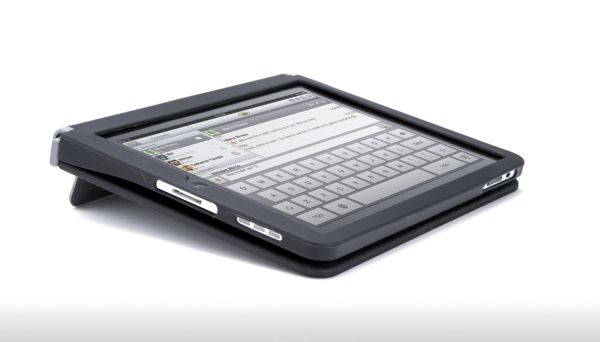 Now that you have finally got your new iPad, you must be thinking to protect it too. Instead of hiding it under layers of cotton inside the drawer why not take it out and give it the Cloak protection with the added advantage of an easy stand to work on.
Engineered by Michael McCoy, the Cloak is one of the most preferred case covers for the iPad as it provides a multifaceted benefit of carry case, stand as well as hard cover protection. The modern, sleek and sturdy case for Apple iPad resembles more with an office folder and matches your style and outfit with élan. It is made from silicon or non-slip rubber with two durable plastic hinges, top and bottom, connecting its spine to the front cover to permit easy opening and closing of flap. The front cover is made of hard and thick plastic and is covered with a textured silicon on outside.
It can be easily set into the case by easy top opening and held in place with a strong resistance clutch. The flip cover of the case can also be used as a stand to make the iPad stand in horizontal or landscape positions, whereas the plastic support props up the screen vertically as well. The net result being that a safe support system is in place and instead of cupping the pad earnestly you can work comfortably on your project. Priced at $30, the Cloak weighs around 1.2 lbs with dimensions 0.77 x 7.97 x 9.72 inches and is available in shades of black, blue, pink and green.
Via: Quirky