When I heard about Big heart, I thought it must be some kind of movie or your favorite tune. But, apparently that's not the case. I am actually talking about a d una or the miniature heart shaped cone chair.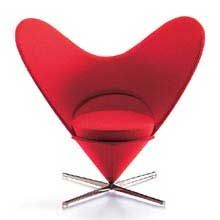 This is just like the love seat that you and your spouse can chill out in. The dimensions of the chair are 4.3 "x 7.3" x 6.7. The bright red automatically attracts plenty of folks to the chair. The strong non-conformist nature and the awesome balance of the chair is an added bonus. The very first of these miniature chairs were developed back in 1958. The 'scintillating charisma' of the chair attracts plenty of customers.

The miniatures collection is very unique throughout the world. This chair has been created by Verner Pantone and sells at around $231. I think I might get me one of these chairs to add to the existing furniture. Although, I guess international shipping and handling charges might be a little too expensive. With one of these, you can surely enjoy the style of loving.

Image Credit: Spacify