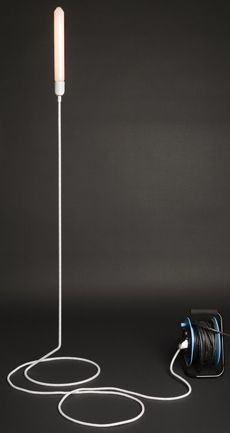 The world is changing very fast and the designers in every field want to create something new and attractive too. Till date we know that cords of the lamps used in homes look ugly when exposed. They are either covered from outside or are inbuilt in the wall itself.
Today some of the designers want to wash this concept from our minds. By introducing this collection of lights with cord and that too open and hanging, they want to show us how much helpful these can become when used. You must be surprised that how can a concept be helpful and at the same time look beautiful when initially it was considered ugly and unattractive and everyone wanted to cover them. But this is the fact.
The Dutch designers have worked and have come out with beautiful designs of illumination. The Yo-Yo design by German designer, Elmar Flototto, is attached to 16 metre cable, is 11 inches high and its diameter is 18.7 inches. With its long cord you can reach your light up to those areas that are far from outlets and also take to the garden if a party is arranged. Then there is the cord light that a team of Swedish designers has created, and in such a way which is totally unusual. The design stands on its cords which looks like it is against the law of gravitation. This design is available in three different heights.

The Sticky lights, designed by a Dutch designer, Chris Kabel, seems as if inspired by the situation when you have limited resources like a bulb and a long cord and you have to carry on. It sounds odd but the designer has dealt with this concept beautifully and created a sticky light which will stick up to the wall and to any height or distance you want it to. Are not all the lights amazing to you and overall they make us feel that nothing is impossible today.
via:inventorspot