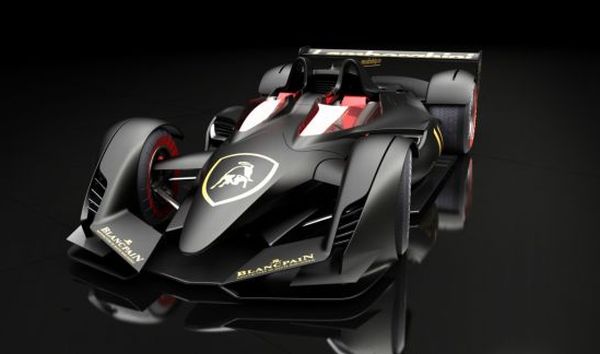 By encapsulating all the elemental characteristics of preeminent racing cars, Lamborghini has come up a unique racing car concept coined as the Lamborghini LMP-F Race Car. Combining the distinctiveness of both the F1 and Le Mans racing concept, this model car brings to life a roaring and zipping perception that is actually a sustained fantasy concept of designer Leerentveld. Drawn on lines for being swift and ferocious, the LMP-F Race car is sure to modify the sports scenario to a more powerful and compelling mode.
Dutch designer Sabino Leerentveld has designed a dream racing car giving it two powerful racing aspects of F1 combined to the Le Mans racing car. The rear wheels of the LMP-F Race car prototype are clearly influenced by a Le Mans racer, whereas the front wheels with lateral air intakes looks like the F1 flyers. The LMP-F weighs about 700 kg (1543 lbs). Its low weight and powerful engine gives it a top speed of about 424 km/h (263mph).
However, with its 1,200 horsepower at 22,000 rpm, it hits 0-60 mph in 1.8 seconds. However, being overtly honest about the specifications, the designer confesses that the numbers are more on a testing based and might not match the actual working details. Nevertheless, Leerentveld's design has just revealed what futuristic racing cars emulating till now was restricted to the virtual gaming world. It's a fully new beginning ahead for future motorsports challenges.
Via: DisenoArt