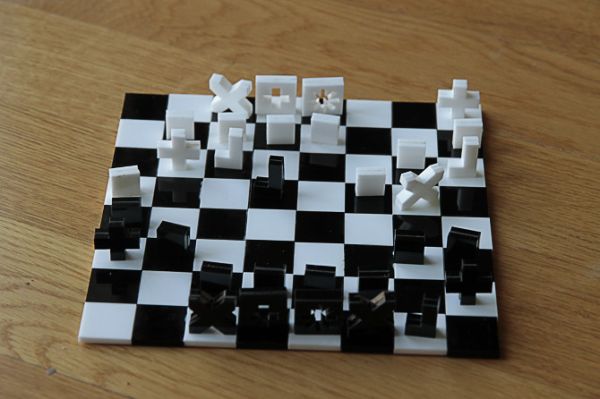 If you are tired of the same old black and white chessboard with the same staid pieces, and want to jazz up your board a bit, Alessia Mazzarella has reinvented the same for you, and how! In a unique tribute to the thought that it is what we do that ultimately makes a mark, and not what we are, she has replaced the usual figures of the king, queen and other staple chess pieces, with their moves. So now we have pieces that are L-shaped signifying their move across the chessboard and so on. This is absolutely brilliant stuff and it will surely ease matters for amateur chess players who have a tough time remembering the various movements of figures on the chessboard. The beautiful set is truly eye catching with its uniquely shaped chess pieces.
Mazzarella, who graduated in multimedia design and graphics from Italy, and is currently pursuing graphic design from CSM in London, has channelized her love for art in this exceptional chessboard. Mazzarella also utilized the differences in height which some chessboards incorporate, with the king being the highest in terms of stature and the pawn being the lowest. Mozzarella rearranged even this factor in her alternate chessboard as she designed all her pieces, except the pawns, to be of the same height. A truly democratic vision has been expressed by the designer through this move.
The pawns are square shaped and this has been done to shift the focus on these less hallowed figures of the chessboard. To emphasize the fact that even these lowly pawns are vital to an engrossing game of chess, they were shaped in this unique manner. Pawns can move in a straight direction, one or two spaces, and can also move diagonally to seize the enemy when necessary. This functionality of the piece is thus well represented in Mazzarella's pawns which are reminiscent of the very nature of the chessboard.
Thus, one visionary designer's attempt to do something different has paid off handsomely with the result being a truly startling chessboard that offers novelty as well as the traditional pleasures one expects from the game of chess. Now while racking your brains over the right move, you can also take time off to admire the beauty and thought that has gone behind Mazzarella's visionary chessboard. The game of chess shall never be the same again and this is an exciting development that will be welcomed by all chess enthusiasts.