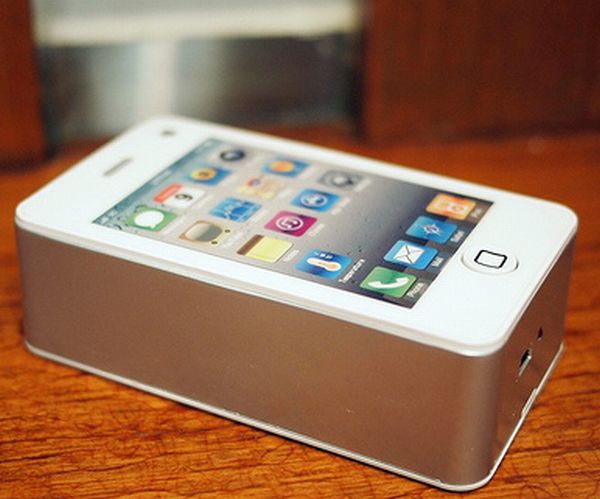 All who are reading this article, be ready for a surprise. I am going to introduce you the "coolest" iPhone 4. It is also the thickest iPhone 4 in the whole world. Yes, it does look like the iPhone made by Apple but it is different.
Now, do not get confused because Apple has not launched any new thick iPhone. The iPhone 4 that you see in the picture is actually an Chinese air cooler. Isn't that amazing? Apart from the 30 mm thickness, it looks so similar to the original iPhone 4. You will actually be surprised that the cooler even has a home button, a mini USB port and a status light at the bottom. It has vents for air at the top and the back.
Although the new air cooler looks thick and hefty, it is actually lighter than the original iPhone 4 because it is made of plastic. It has even got a screen very similar to the white iPhone 4. The only difference is that it has a temperature app included in it. The home button acts as the power button here and helps to switch the device on or off.
The cooler works with the help of a Lithium-ion battery and gets fully charged in 5 hours.Once it is fully charged, it can work non-stop for about an hour. The unique air cooler has a special technique for cooling. The air vents at the back have a removable cover. You can easily slide the cover to open it. On removing, you will find a blue sponge. You have to soak the sponge in water and put it in the device for really cool air. Care must be taken to squeeze out any extra water from the sponge so that the water does not drip because the device is not waterproof. If you are not using the device, you have to take out the sponge from it.
The fan of the cooler is strong and spins at 7000 RPM. This is fast enough to cool down people on a hot summer day. The cost of the product is just 68 yuan. Although the mini cooler cannot work for long hours, you can obviously use it in places where it sometimes becomes unbearably hot. As it is small, it cannot cool you down fully but at least it can relax you a bit. It is light and portable so you can carry it anywhere you want. The interesting design is the most special factor that will attract several buyers.
Via: Micgadget