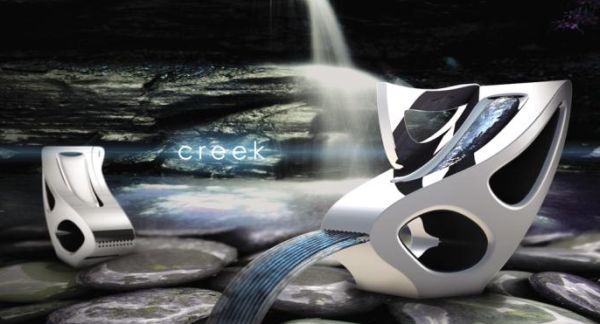 Created by designer Melody Shiue as a student entry for the Reece Bathroom Innovation Design Competition, the "Creek Tap" is an innovative faucet design to say the least. The tap has been created keeping in mind the different requirements of an average user who needs different amount of water for activities like washing hands and brushing teeth and may require a different water temperature when washing face etc. Most existing faucets in the market rely on different lever movements to control water temperature and flow and thus take up extra time to get the water flow to just the right heat and amount. The Creek Tapware focuses on this aspect of faucet usage and relies on an intuitive design which preempts both the amount as well as temperature required for different uses.
The faucet comes with a single thermostatic mixing lever that releases hot water into the water stream in proportion to the overall amount being released. So if the user holds the lever back slightly to get a smaller amount of water, the mechanism releases a small stream of hot water in the flow.
When the lever is pulled further back to get a greater flow of water, the mechanism lets out more hot water into the stream to maintain an evenly heated flow of water. Since most users never really need boiling hot water in their sink, the design allows them to bypass the need to manually adjust water temperature via a separate hot water lever.
The designer faucet also breaks from the norm of established plumbing aesthetics and instead introduces the idea of playfulness in its outlook. The tap draws from the image of water trickling over rocks in a stream that ultimately flow out magnificently into a waterfall. The beautiful piece appears to be in sync with the water as well as its surroundings and has been crafted to fit in seamlessly with decors of all kinds.
[Thanks Melody]