Following the approval of a planning application to redevelop York House, London's Southbank is all set to get a new landmark building. Designed by Sheppard Robson and commissioned by Delancey, the 18 storey crystalline office block will feature a beautiful glazed-design which will reflect light in an array of colors due to the formation of layered glass creating a 'dragonfly wing'.

With an outer skin crafted out of deformed grid that pulls against diagonal fins to create a series of small pyramids contributing to the jewel concept, the Dichroic glass fins will give off crystalline reflections and animate the façade as the sun moves around it.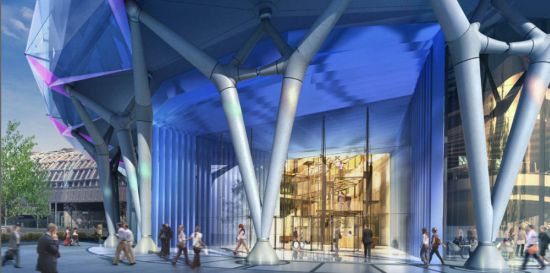 Using sustainability as one of the key components of the design, the building's layered glass frontage will also offer an 'environmental buffer' between the inside and outside and collect heat for energy.
The 345,000 sq ft building will also house a central atrium reaching from floor to ceiling through 17 floors providing an internal spectacle which will bring light to all sides of the office space while the surrounding area connecting Westminster Place with Delancey-owned Beckett House will be made into a symmetrical passage using specialty landscaping.
Situated on the River Thames, landmark will be highly visible from Parliament Square and Westminster Bridge and will make a wonderful addition to London's glamorous skyline.
Source: World Architecture News