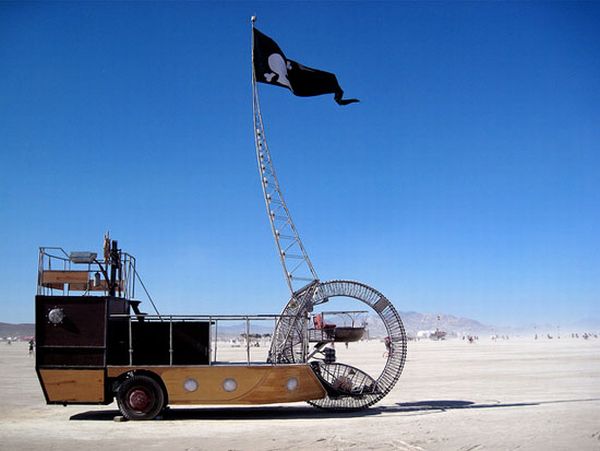 Do you want to live and travel like a pirate? If yes, then the following information will leave you in a state of awe. The punk pirate ship, named C.S. Tere, has been customized by Captain Andy. It is a true reflection of ingenious engineering, and its rugged appeal adds to the whole aura.
The amazing construction has a steel frame that comes enveloped in wood. The front hubless wheel looks quite interesting and has a diameter of 10 feet, while the two at the back have been crafted from steel. The ship will fetch all its power to move ahead from a three engine cylinder that will further push the hydraulic pumps.
The construction is a true picture of amazing art and is a result of unending hard work. What started as a concept in the year 2004, is finally taking an interesting shape which will fetch a lot of attention. A few things need to be taken care of before it is finally tagged as a finished product. The designer has to fit in a fresh engine and also needs to wedge advanced hydraulics. There are plans to fit huge fire proofers and valves controlled by computers.
Once, all this is in place, it will set out on its maiden voyage and inject an element of fun for those sailing on it. The C.S. Tere is one steam punkish ship that will make budding pirates drool all over it.
Via: Dvice