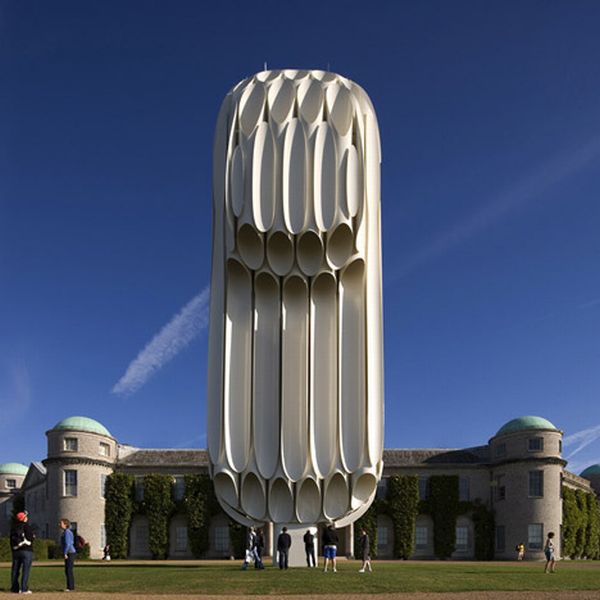 Breathtaking innovation can be the only and the best attribute that can be awarded to the E-type structure of Jaguar by Gerry Judah. The height of this sculpture is 28 meters and it is completely made of steel (the quantity of steel used in building is estimated to be around half a kilometer of steel tubing). Gerry designed this sculpture for the Goodwood Festival of Speed, which took place in Sussex in UK. The diameter of this beautiful sculpture is 1.2 meters and the weight is estimated to be above 175 tonnes.
These figures depict the amount of hard work and creativity that was applied for building the sculpture. The shape of the sculpture resembles a car resting on its front bumper. The history of the Jaguar E-type dates back to some 50 years ago (1961) when it was first unveiled at the Geneva motor show and since then, it has maintained its reputation in the world of cars as an iconic car. The Jaguar E-type is credited with a 150 mph performance and a heritage of winning races.
The Jaguar E-type is not only beautiful in the real sense, it is also known for its incredible speed and credibility. The car is a blend of style and durability, thus providing a mind blowing experience. This wonderful car has maintained its dignity in the minds of the people. As time passes by, the fashion statements of people as well as cars change but Jaguar E-type has been the proof of the proverb 'Old is Gold' and still manages to fascinate people of all age groups.
Truly, Enzo Ferrari has described it as "the most beautiful car ever made." This abstract piece of sculpture is seen as a tribute to the dignity of Jaguar. Apart from Gerry, the other dedicated team members involved in designing and establishing this sculpture include Capita Symonds (structural designing of the sculpture) and Littlehampton Welding (Fabrication and installation).
Via: Dezeen