Your living room is the space where you spend most of your leisure time wondering about, watching your favorite programs, entertaining your guests, and doing most of your work sitting there. Therefore this is an ideal place which should be decorated comfortably. There are many various kinds of decorations that can be done to your living room starting from arrangement of your sofas and center tables, painting and decorating your walls and placing small mementos and plants for beautification. Not all people have the pleasure of having a big spacious living room. For those people, there are some tips which can help you to accentuate your living room.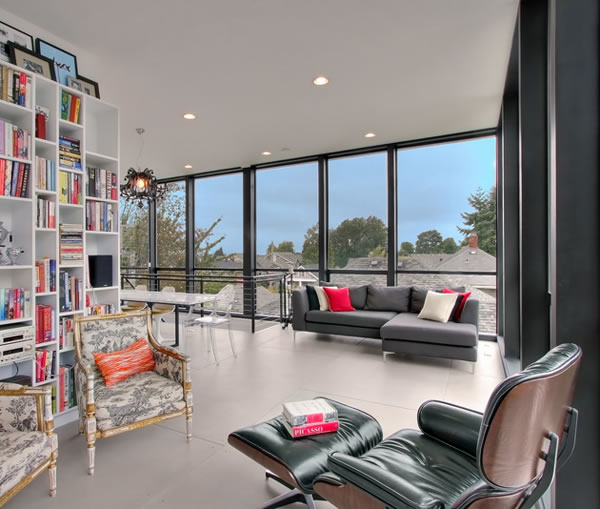 Choose a theme that will appeal you
The first priority is choosing a theme which will allure you and also add beauty to your small living space. More number of things which are cluttered in a small space makes the space look smaller. Try avoiding cluttering things so that it messes up the room.
Believe in Feng shui
Many people have strong belief in the Japanese Feng shui method. Feng shui helps people to place furniture as per the rules. However people who do not believe in Feng shui can place their furniture in the most apt way. The furniture should be kept in a way in which you can move around freely without any hindrances. Also try and keep furniture at a distance from doors. This makes the place look big. You can also purchase a large television set and hook it up on the wall to save space. This will draw visitors to it as well, making your room look larger then it is.
Try an ambiguous design
Try a design which will help your room to look spacious. A modern look looks best in a small room. It also helps to give emphasis to space. It is important to design in way that you like since this is the space where you need to spend maximum time.
Decorating the room
Small furniture will look best in a small living room. A loveseat or a small couch will give the notion of a large room. Mix and match is the best way to add style and comfort to your room. Try combining a large sofa with a small centre table or vice versa. You can also place a mirror or a piece of art to add beauty and style to the room. The mirror will also help in making the room look large.
Painting the room
It is a known fact that lighter colors make a room look large while darker colors make it small. While painting a small living room it should be kept in mind that the paints should be apt to make you room look big and at the same time nice. Pairing up two colors would also make the room look good. You can also stick to a monochromatic scheme. The best colors for your living room would be yellow, peach, light blue, pink. Use contrasting colors like red, green, dark blue for a mix and match shade. A gray blue shade also makes the room look big and spacious. White also makes a room look big and airy and if your living room has enough sunlight, it would accentuate your living room. White is a good color if it can be maintained well.
People who feel that space is a constriction to beautify, can take the help of internet to choose some of the most beautiful interior designs for decoration. It just takes creativity and ideas to turn your small room into a masterpiece!