Nothing refreshes you more than a huge glass of lemonade on a hot summer day. Squeezing lemons or citrus fruits could be fun if you could have these delightful squeezers.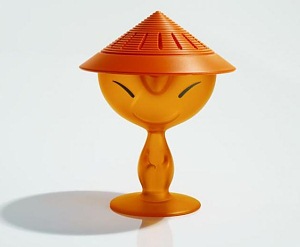 Alessi Mandarin Citrus Squeezer-This Chinese guy can squeeze your oranges and lemons, just turn his hat upside down and you have a great citrus-squeezer. Mandarin is a delightful squeezer for any kitchen-comes in three delightful colours-Orange, blue and yellow.
Boat Citrus Squeezer– An update of the classic worktop citrus juicer with a boat form juice catcher for easy pouring and a filter to stop seeds. Comes in three colours-cream, black and blue.