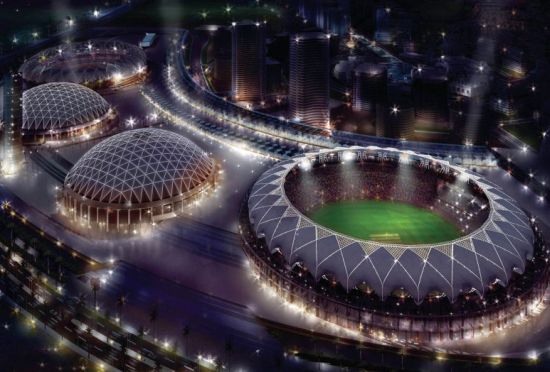 Dubai, UAE, will soon be home to a sprawling sports city that will be spread over 4.6million square meters of the desert. Being built as a part of the Dubailand project, the Dubai Sports City will soon be the focal point of several of the world's major sporting events. On the cards are four mega stadiums and facilities that are to the specifications of the governing bodies of the respective sports, including cricket, football, rugby, hockey, and tennis.
The $4 billion project is on a fast track to completion and some of the facilities are already taking the final shape. Names like Manchester United, Ernie Els, Butch Harmon are associated with the ambitious project and their visions are already shining through in the designing of various facilities. The Dunes Golf Course, a 72-par 18-hole championship golf course is the first ones to become fully operational in the Dubai Sports City. Very soon a 25,000-seater cricket stadium will be complete. Also in line are a 60,000-seater outdoor arena and a 10,000-seater multi-purpose indoor arena. 2008 will also see the completion of a 5,000-seater hockey stadium. For soccer fans, there's great news. The Dubai Sports City will see the first-ever purpose-built Manchester United Soccer Schools, and this will be housed within the Dubai Sports Schools Facility. Among other sporting facilities being built are a multi-functional state-of-the-art gym, an Olympic-size swimming pool, and world-class accommodation facilities for the visitors.
So much for the sports-part. But as a visionary campus, Dubai Sports City is not all about competition. There will be 930,000 square meters of residential villas, numerous restaurants, cafes, shopping centers, hotels, parks and all the other conceivable establishments. The residential areas proposed include: Victory Heights, Gallery Villas, and Canal Residence. Each is aimed at a specific niche of consumers and comes with exclusive features.
So there you have it, the future destination of world's sporting attractions is soon to be ready. Everything will be world class and up to the international standards, be it the facilities, the venues or the living areas. Dubailand sure has some interesting and attractive projects in the making but for all my money the Dubai Sports City tops them all and more.
Via: Worldarab