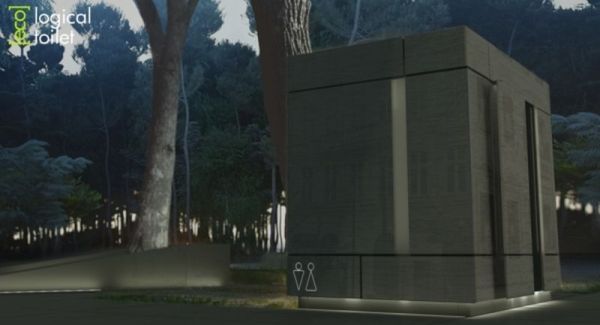 Lukasz Ekwinski has designed the ecological toilet, which is simple and yet has modern design in terms of its functionality. It's been built keeping in mind the beautiful nature and can easily be accomodated into any city area.

The whole structure stands on a concrete platform, firmly fitted to the ground. The wedged and oblique roof has with it solar panels and a facility to collect rainwater, which in turn is used for various purposes. The high walls of the toilet beautifully camouflages these eco-friendly traits. The temperature inside the structure is regulated in an ingenious manner; the shaded part lends coolness while the metal cover ensures that the air inside gets heated when it gets cold.
The lighting of the interiors is facilitated by the solar panels above. The toilet has a belt light, which swaps from skylight in the daytime to a lamp when dusk sets in; it also has soap dispensers and hand drying equipments. The interior features are round facilitating easy cleaning even in the corners. The structure on the whole is quite tough and resistant to damage. .
People suffering from disabilities have been kept in mind while designing this ecological toilet: there are handrails and a hydraulic lift for their convenience. Although being small and compact, the Ecological Toilet has all the basic facilities and promises not to harm the environment.
Via: Behance