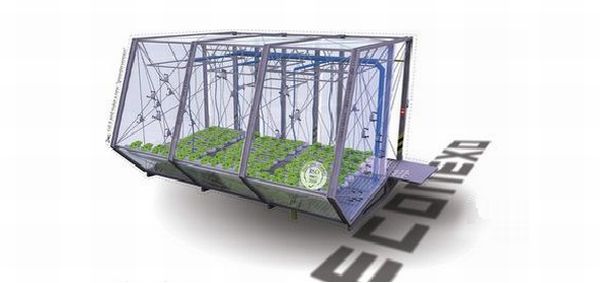 The growing urbanization in many countries is leading to the extinction of lush green countrysides. Similar is the condition of the city of Querétaro located in North-central part of Mexico. The inevitable need for urban expansion led to a poorly planned city with a neglected countryside. The result – neither of the sides is able to take advantage of the urban expansion, which was the sole aim of it. This led to the design of eCoNEXO – countryside within city-side.
The project has been designed in such a way that the city not only serves the human life but also acts as a productive unit for sustaining plant life. The agricultural farm, which traditionally grows in small or large fields in the countryside has been merged within the city in a very different way. eCoNEXO has placed the farm in a mechanized production facility unit that can be placed on the underused roofs of any housing complex or as an individual structure on their own within the city.
These mechanized units of agricultural farm can either be used in large quantities or as part of a small housing as a private farm for the residents. The eCoNEXO project was a great challenge as the designer was supposed to ensure a seamless integration of the project site with the existing urban pattern. The project was also to serve as a model for others to see how cities should grow. It has picked pace and is slowly becoming a showroom where the city is now growing in an articulate manner.
A thirteen storied building that houses administrative, commercial and service spaces also serves as a production unit for the area. Along with this are the differently designed residential areas that are also capable of housing these production units on top. The result being the residents of the city will not only be able to enjoy the countryside but will also never have to leave the amenities that the urban setting provides. It is a wonderful and holistic way of living as well as high on innovative urban design. So, if given a chance would you ever consider living in such a place?
Via ID Magazine