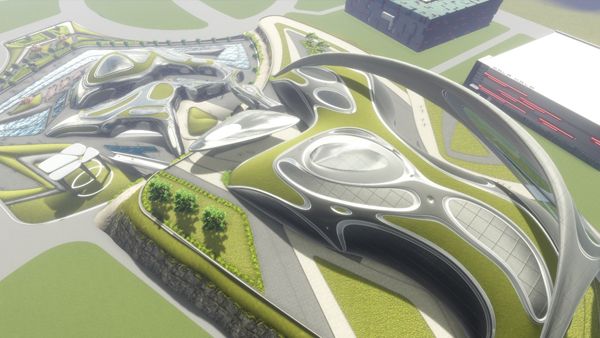 Moatesem Esmat from Mataria Engineering School has developed a brilliant design for a new fine arts center in Helwan, Egypt. The design is based on the latest developments in architectural crafts along with sustainable features. A bird's eye view of the project would make it appear like an "Eco" structure that looks in a discontinuous form with the greenery being punctured by glass structures.
The design of the building – or series of structures – is such that it makes optimum use of solar energy and wind energy for powering the premises. Not only that, the building also has an effective rainwater harvesting system in place. Apart from the ample green spaces that are given in the design, there are various other spaces functioning as courtyards that have atrium for provision of natural light and a great ventilation mechanism.
These days, designers and architects have become environmentally responsible and that reflects in their works to create structures that are sustainable with minimum carbon footprint. Making the most of renewable sources of energy is the need of the hour and huge eco friendly structures set a precedent for others to follow. Apart from a wonderful eco friendly features, the futuristic layout of the structure is also very appealing.
Via: Evolo