The new mode of transport for tourism travel is by bus. The entire region of Malaysia, Singapore, and Thailand has excellent coverage by bus to most popular tourist sites. These are express buses and have excellent facilities which include choice of seat, onboard meals and wi-fi. The buses are air-conditioned, have very comfortable seats and are hassle-free. You can easily travel to any of the best places to visit in Malaysia using the bus.
Tourists can book bus tickets online, and they will be given M tickets which are directly sent to the registered mobile of the tourist. Redbus has a tie-ups with 143 different bus operators, and the details of the affiliate and the number of the bus will also be mentioned in the M ticket. What's more, prospective tourists can also book their choice of seats.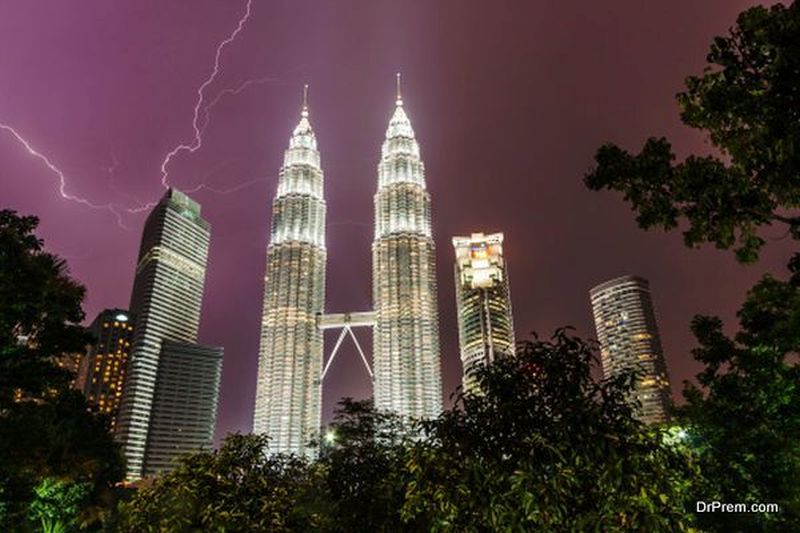 Desa Water Park
The Desa water park is one of the best places to visit in Malaysia and is among the best water parks in Malaysia. The highlight of the Desa water park is Thunderbolt, the longest master blaster in Asia. There are several attractions in this amazing water park, and visitors can enjoy several rides and splashes in this park, and there is also a themed adventure park within the park. There is very good food available as well in the water park. An expedition to this amazing water park can take most of the day. The Desa park is located in Jalan Desa in Taman Danau Desa, and there are regular bus services to and from this park. Tourists can choose the nearest pickup point closest to their hotels for this great adventure.
National Textile Museum
The National Textile Museum is one the best museums in Malaysia and was originally meant to be a railway museum. This building is mogul style and is in itself an attraction for its unique style. The lower floors of this unique museum showcase the historical evolution of the Songket and other popular Malaysian fabrics. These floors even contain live machinery and equipment, and visitors can watch these fabrics being made live in front of them. The upper floors contain designed motifs, headgear and jewelry used by people down the ages, and local history really comes alive. Tourists can book bus tickets to selected places such as the textile museum.
Menara tower
Another great tourist site that can be visited by the comfortable express buses of Malaysia is the Menara tower. This tower is 420metres high and is dwarfed by the Petronas towers but still offers the highest and most spectacular view of Kuala Lumpur and the surrounding areas, including a national forest. The tower has a revolving restaurant, and tourists can get a 360-degree view of the surrounding area, which also includes a pool, an amphitheater and even games arcades. This tower is located in Jalan Puncak off Jalan P. Ramlee, and there are regular bus services to this fascinating site.
Sultan Abdul Samad Place
The Sultan Abdul Samad Place is another of the great places to visit in Malaysia to visit by bus. This palace is old and was built in 1897 but what is interesting is that this palace is actually modelled after the original palace from as far back as 1493, which was destroyed by lightning. The original palace was rumored to be exquisite and was the best palace in Asia during its time. Many stunning artefacts from that area have been recovered and are on display in this fairy tale palace which is worth a day's visit by bus.
Legoland Malaysia
Legoland Malaysia is another thrilling place to visit. The specialty of this site are the lego blocks which are larger versions of the lego toys so popular with children. These lego block structures of the famous Taj Mahal and the KLCC area. Tourists would love to try out the Dragon, which is a thrilling roller coaster ride. The area with the lego buildings is known as Miniland, and tourists can take a train ride through this fascinating land. In addition, there is even a movie theatre in which 4D movies can be watched. This is followed by an adventure land where visitors can get the thrill of a wet ride in Dino land and then get dry from the body dryers. There is plenty of food available. Children can augment their tour of this mystical miniland by visiting the Lego shop and buying the world-famous lego blocks and trying to build all they have seen. This great theme land provides a great experience and tourists can come and go by bus.
Batu caves
A big tourist attraction in Malaysia is the 430-million-year Batu caves. They are deep limestone caves that contain several Hindu temples and also some Buddhist shrines. One of the highlights is a 150 ft golden statue of Lord Murugan. There are 270 steps going up to the caves, and the view of the city of Kuala Lumpur from the top is breathtaking.  Some of the unusual caves, such as the dark caves, are very popular and are frequented by tourists. There are regular bus services to the Batu caves, and tourists can book bus ticket online.
Chemerung Falls
Another great place to visit in Malaysia by bus is Chemerung Falls. It is a beautiful two hour drive through the countryside, and one can enjoy the comfort and luxury of an express bus and also enjoy the cooling foam from this spectacular 300 meter waterfall.
Kota Bharu, Kuantan and Kuala Terengganu
Among the great places to visit in Malaysia by bus, there are the 3 cities along the east coast. The three cities are Kota Bharu, Kuantan and Kuala Terengganu. The cities are authentic, traditional and tourists can shop for local curios and souvenirs in the local markets. These cities are great to visit by bus and tourists can buy bus tickets to move between the cities safely and comfortably.
A final note on best places to visit in Malaysia
These are some travel destinations that can be visited by bus. Redbus facilitates routes and itineraries with the help of its affiliate bus services and offers tourists excellent tour opportunities comfortably and hassle-free. You can also check out some of the historic places in Malaysia.