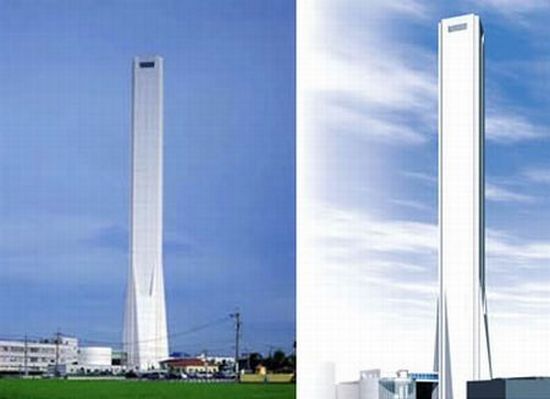 Nope. The white tall structure that you see towering over the other seemingly minute buildings isn't a special effect. It's a real-time 'test tower' constructed by Mitsubishi.
A major name in elevators and escalators since the 1930s, Mitsubishi Electric has built a reputation for creating breakthroughs that make getting around more comfortable, safe, and even inspiring.

The construction of this seemingly endless building started on 26th December 2005. Today, standing proud at an almost incomprehensible 567 feet, it happens to be the world's tallest elevator testing tower. It is called Solae and it looms over Inazawa City.
You must be wondering exactly what purpose this giant elevator shaft would serve. Using technical jargon, the slim, hollow building filled with elevator shafts will be used 'to conduct research into high-speed elevators to serve the next generation of super-tall buildings,' including stress tests on 'new drives, gears, cables and other lift systems.' In layman's terms, this 5bn-yen ($50m;£25m) project can be called a building dedicated to vertical circulation.
Source: BLDG Blog