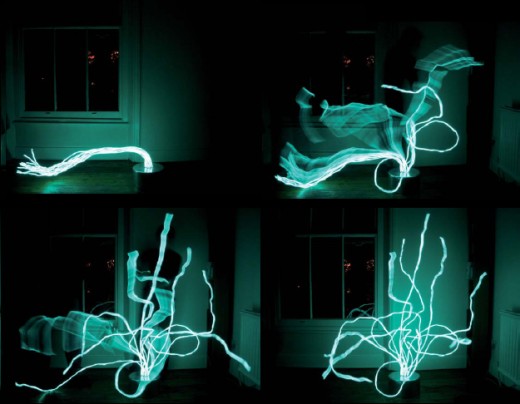 The ETree El Lamp is a unique and beautiful floor lamp. This lamp uses strands of brilliant electroluminescent tubes that form an almost infinite number of flowing organic shapes. The Lamp invites the user to interact with it by moving its strands of light. Users can even play with the light-strands. Different lighting solutions can be created with the luminous light 'branches' emitted by the lamp.

The ETree El Lamp has been designed by Jesus Felipe and Silvia Grimaldi ( from UK-based Nimble Critters). This device represents an interactive piece of sculpture and is much more than just another lamp. The lamp generates 10 bluish-green 'branches' of light, and each of these 'branches' can be bent into almost any shape. These shapes create arboreal structures that resemble the tentacles of a jellyfish held upside-down.
The Etree Floor Lamp is available at the Kinetica Design Museum. It is priced at $ 2068 USD (A1000 pounds). A simpler version of the lamp ( a 5-branch table lamp) is also available at $ 745 USD (A 360 pounds). The user can choose between the 30x30x30 cm or the 300x300x170 cm lamps.
The Etree Floor Lamp can be made to interact with surrounding objects or can be set up as an individual piece. The large size of the lamp makes it a striking and attractive addition in both commercial and residential environments.
Source: technabob