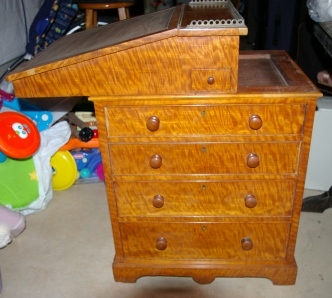 It looks like a kid's reading desk, but wonder what it is. It is made from 'curly maple wood' and has a lift up top and several drawers on it. There is a sliding desktop and you can use it as a low table, where you squat and work on it. The four drawers have locks and there is a desk top lock too.
Cool gadget and the top drawer has the number 5050 stamped onto the wood. Rather strange model number with the brand name, we don't know yet. But, one thing is certain. This is definitely very very functional and handy. A great gift for your child this Christmas. Check it out and make a beeline to order it.


A great and very functional piece of furniture. There is no name so you can give it your own name… and call it what you want.