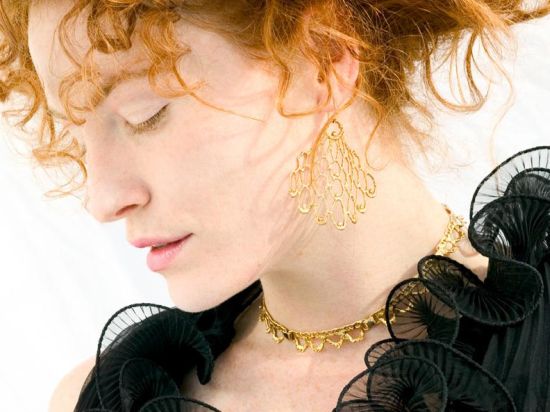 Saya Hibino (27), a jewelry designer from Kyoto, Japan, is sure to win hearts with women all over the world with her latest range of jewellery. Inspired by her childhood among her 'kimono' family and her experience in photographing and drawing the life observed in Kyoto : Geishas, tea houses, temples and people, her range of jewellery exhibits an exquisite handcrafted look. Her enriching education at Fashion Institute of Technology in New York has paid off really well. Saya uses 18K gold and silver to design jewellery items, including gorgeous crown rings, elegant necklaces and stunning mesh earrings. Saya's unique range is meant for the modern woman of today, who is delicate, sensible, independent and strong, and thus fits with her lifestyle.

The jewellery is perfect for big parties, specially weddings. They would, however, be a little too gaudy to wear to work or even on a regular basis. Browse through Saya's creations at specialty stores throughout the US (New York, New Jersey, Atlanta, New Orleans and Los Angeles) and Barneys Japan at Tokyo. For starters, you can take a look at herw ebsite www.sayahibino.com.
So gift yourself one (or more!) of these exclusive, beautiful jewellery items and turn heads at parties. Or send these to your sweetheart, friend, aunt, mother, sister or just any other woman in your life and the smile on her face would be a perfect match for these jewellery pieces.
Source: Fashion Trendsetter