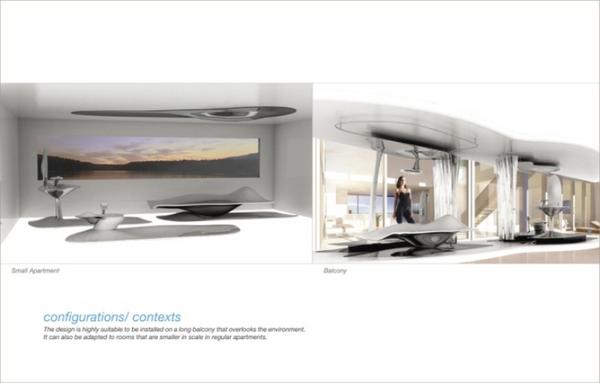 We all spend a good amount of our time in the bathrooms. Now, just to make your bath experience a dreamy one, Designer Wan Xuan Lim has come up with a dream bath experience, entitled Fata Morgana. As the name itself suggests, Fata Morgana takes inspiration from an arid landscape. The landscape creates a soothing ambiance of free forming mirages and hanging aspects. The lighting and perfect ambiance is suitable enough to tune the user's mood. All these create a state of illusion.
Each and every element is influenced by mirage images which are aimed at creating emotional responses. It has been designed to keep the real and mirage images in harmony. The use of customizable units adds to the design and purpose of Fata Morgana's dream bath experience. Each unit has been specially made with varying colors to suit users with different preferences, and hence appeals them. Being a unique and rare design, it increases its marketability too. The curtains used in Fata Morgana hugely add to the mirage effect. The fabric is of special reflective and translucent quality that immerses a person in a complete imaginary world of dream. These are purposely used to render privacy.
The whole system stands true to modularity as the platforms used are of appropriate length to suit different space requirements. The best part is you can simply install individual elements on the platforms to form either open or close bath system. Where else will you find so much flexibility to set a desired mood, that too along with a bathing experience!
[Cheers Wan]