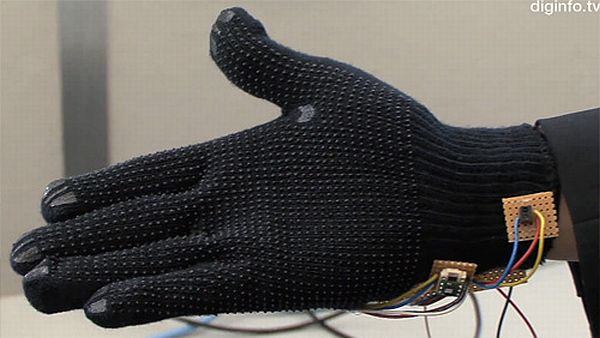 Japanese researchers at Osaka and Shinshu Universities have designed an extraordinary sensing device, a Fingual glove that detects the movement of fingers or the sign language and convert it into digital text. The finger-language interface device can recognize gestures or shapes formed using hands and fingers. The glove works on the principle of magnetic field, and the glove's tip has a small magnet attached to it, which will change the field around the glove as the hand will change its shape. Then with the help of a predefined specification, the changing magnetic field is measured by magnetic sensors and is converted into text.
We've only tested this system indoors, but if you use a data set you've prepared yourself, you can get a recognition rate of over 90%. With data prepared by other people, the recognition rate is currently 80-90%.
So, in order to get high recognition, you need to create the data set correctly. The recognition rate is lower otherwise. The Fingual glove is also equipped with an infrared sensor. The user has to hold his other hand near the glove or near the body to enable the gesture recognition mode, and the process also restricts the system to textise every single action of the hand. The device is precisely developed to help people using the sign language to be able to use it in textual form. Text output is justified, but studies are on to see if this finger language can be used to get a sound output as well.