With the rapid advancement of robotics, global technology leaders are coming up with unique and creative exoskeleton designs in order to help civilians as well as military personals. In this post, we have sorted out the best five of them. Have a look: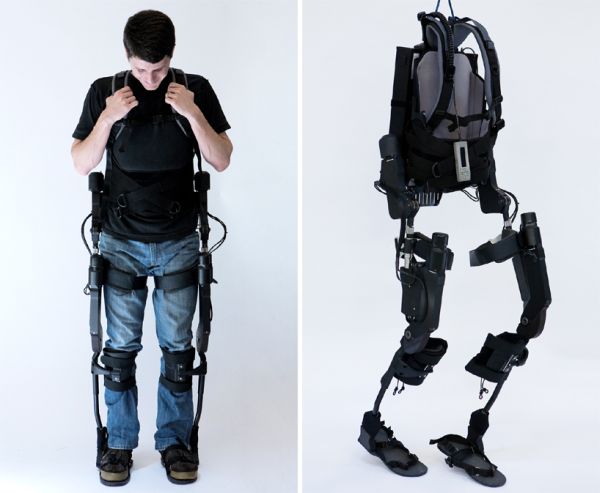 ReWalk
Invented and marketed by a group of researchers at the Argo Medical Technologies Inc. in Israel, ReWalk is considered as the most creative as well as useful exoskeleton developed so far. The major objective of this invention was to help paraplegics in their day-to-day works like standing on two legs, walking on their own and even climbing stairs. However, it can also be used for assisting wounded soldiers during wars. ReWalk costs around 50,000 British pounds and was first available in the United Kingdom.
Rex
The widely known exoskeleton Rex was designed and developed by the New Zealand-based company Rex Bionics. It is one of the most unique 'hands-free and self-supporting' devices that allow a paraplegic person with true mobility impairment. Rex is equipped with a couple of robotic legs, a control pad and a joystick, which collectively help the person in moving. The user of this exoskeleton must have a height between 4 ft. 8 inches and 6 ft. 4 inches. as well as a weight less than 100 kg. Rex comes at a price of $150,000.
eLEGS
eLEGS should also be included in this list of world's most innovative exoskeletons. This robotic device was created by a team of scientists at Berkeley Bionics in California. It was mainly intended for people suffering from spinal cord related problems. After practicing a few days, these people can use eLEGS easily and effortlessly. It is extremely helpful in standing upright and moving without any trouble. However, these legs cannot be used in military.
HULC
Human Universal Load Carrier or HULC is another effective exoskeleton designed and developed by the Protonex Technology Corp., located at Southborough in Massachusetts. Protonex is basically a manufacturer of contemporary fuel cell power systems. In this exoskeleton, the company has used an extensively strong and robust power supply device (lithium polymer batteries) that can keep it functional even after a long period of 72 hours. There is also a microcomputer installed in it that tracks the activities of the user and ensures that the device works in synchronization too. Notably, HULC is used only for militaries.
XOS
Finally, there is XOS exoskeleton, another robotic device meant for military use. It was designed by Sacros and endorsed by the Raytheon Integrated Defense Systems, situated at Utah in Massachusetts. XOS can be used for picking up weight up to 200 lbs again and again without facing any strain or fatigue, carrying heavy cargos remotely, saving injured soldiers, and so on.