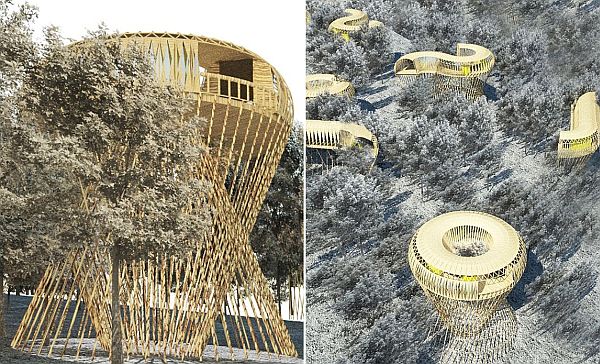 The Qixianling Mountain project is located towards the southern sea side of China viz. the Sanya region. The sight of this project, surrounded by lush jungles especially the virgin rain forest, never ceases to leave people spellbound and this therefore raises the grave challenge of striking a correct balance between development and the frail ecosystem even more painstaking without disturbing the poetic life.
One such solution to help strike the delicate balance is the "living above the canopy". This idea works towards creating harmonious surroundings for all living beings and helps save the forest as well. The canopy solution works on the elementary concept that villas will be hidden amongst the harmonious canopy, thereby staying invisible most of the time.
However, the people living inside these villas would be able to experience the beauty of nature in all forms viz. the sunshine, shadow and rains, in addition to feeling the cool breeze of the surrounding environs. The experience of staying in these floating villas would therefore be surreal which is difficult to even envision in today's fast paced world.
Additionally, the hotel comprising of various floating villas would also provide a powerful and amazing sensory experience by promoting a close knit relationship with the rain forests using a highly developed combination of visual, auditory, physical as well as tactile stimuli. This has been done by a low impact strategy effected by lifting and curving, as the villa hotel uses only the void space of the rain forest without harming the natural resources of the rain forest that are left to the locals.
Even the most basic rain water harvesting has been implemented without disturbing the natural settings. As regards the external beauty of the floating villas, care has also been taken to blend them within the surrounding environs. This has been done by using a clever combination of colors.
While the grey space indicating the semi-outdoor space has been used intelligently to radiate a feel of living amidst the forest, the yellow space has been extremely restricted in usage and has been used only for areas that radiate the need for privacy. It is this clever concern for details – both interior and exterior that helps bring out the best of rain forests when at the floating villa.
Via: Behance