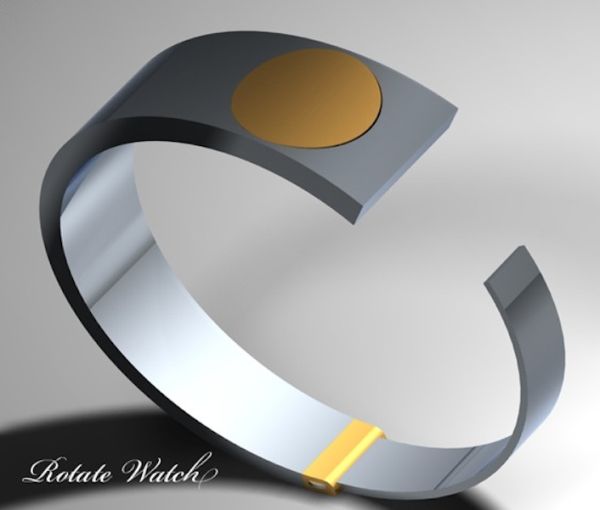 Everything around us is changing, hence innovations and designs are changing the way we function in our day to day lives. We are now fully loaded with lots of gadgets in our daily lives and it's only making our lives better. However watches are still moving into the same traditional arena and the digital watches have also become the gadgets of the past. With time we see innovations in the functionality of a watch in terms of additional information display but seldom do we see experiments with the aesthetics of a watch, that too as a piece of elegant jewelry.
Now this is what falls straight into the category of new age jewelry or can also be termed as a new age gadget to keep a tab on your precious time, otherwise called a watch. Designed by Patrick from France and named as Rotate is a contemporary and elegant watch which appears more like a bracelet or a like a sleek piece of jewelry. However, in functionality, it is a wristwatch.
Rotate tapers from front to back and has a retractable clasp like a band to fit around your wrist. There is a small circular medal at the top of it that has to be pressed gently with the finger for the information to be revealed. The actual watch is hidden in the disk. The watch displays the time, date and day. You have to press the disk once for time, twice for the date and thrice to display the day.
It has the LCD display and is also backlit with LED, in case of low light or no visibility at night. Rotate is also available in different finishes of Gold, silver or IP black, the choice is yours. Also the LCD display has various color options available with Rotate. The designer aims this watch with crisp and clean look towards the sophisticated and refined women who want to look different and own something special.
Rotate is definitely going to be popular with women, as it serves the dual purpose of being used as a contemporary piece of ornament and also functions as a watch. Rotate scores high with its aesthetic appeal and also for its functionality. From our side Rotate gets a thumbs-up and would surely like to have one for myself.
Via: Tokyoflash