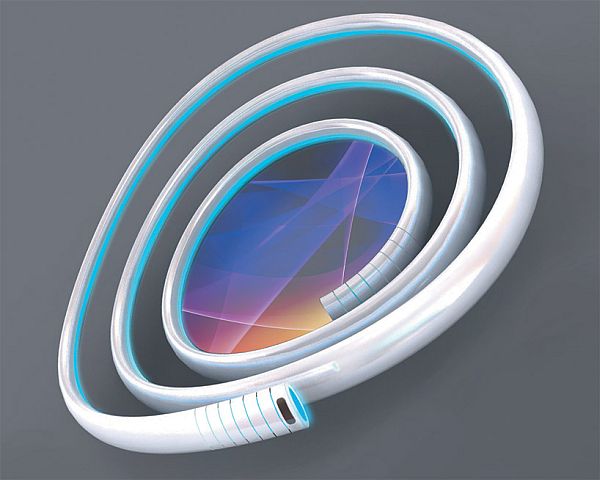 Among the great designs this week, Integral Cord hogged enough limelight. I am here to tell you guys about this awesome concept by three designers Raphael Lang, Yu-Lin Hou and Stephen Chan Win Tak from Germany. But before I present the details, I would like to mention that the Integral Cordhas bagged the runner-up prize in a design boom competition – A Life with Future Computing – that was organized in collaboration with FUJITSU and Design Association based in Japan.
The Integral Cord is designed to make the computing world a more flexible one. This cord acts as screen manipulator. With the help of Integral Cord, one can manipulate the computer screen to desired size or shape. Don't get confused as to how a cord can manipulate the screen. Several LEDs in the coils of Integral Cord overlap at a single point to create visible pixel. Everything in this cord is flexible, including the circuit board. You can also join two or more integral cords to make a mega screen.
Briefing the media about their concept, the designers said:
With 'integral cord' you can easily manipulate your computer screen to your desired size and shape, making it adaptable to any working or social situation.
This is a great design and I just cannot stop myself from hailing the trio, who designed this Integral coil. If you feel the same, then do leave your comments below. By the way, do not forget to visit Designbuzz regularly to know about new !
Source: Designboom