With modernization, space is quickly becoming a huge issue. From the lack of space in the house to lack of parking space around the building, our compact lifestyle faces challenges everywhere. However, at least as far you can are concerned, there are foldable scooters that perfectly deal with this issue. Here, in this article, we have mentioned 10 of those space saving, energy-efficient scooters that would go hand in hand with your modern lifestyle.
Top 10 Space Saving Scooters
1. Jean Baptiste De Clercq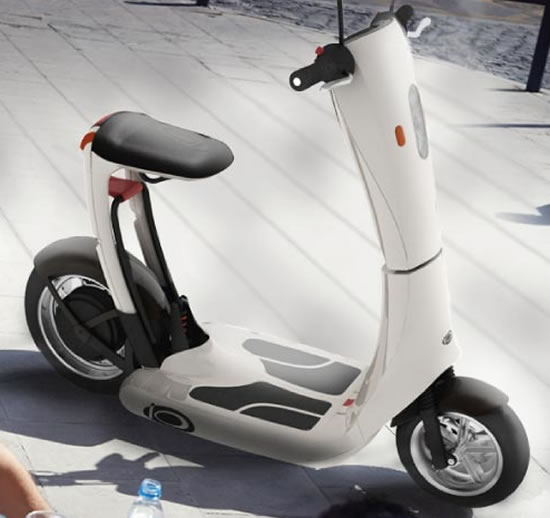 If you're a real lazy bum who also happens to be a treehugger, this eco-friendly scooter concept is something you should definitely exchange for that horrible old rickety bicycle mod that makes your dog do all the work. Created by industrial designer Jean Baptiste De Clercq, the almost classy scooter called I/O is clean, compact and can also fold down to let you carry it in the subway or even in the elevators. The electric motor ensures that you can always take it to work with you and charge it in your office (on the company's money) which helps you not only save up on gas money but also lets you score some real big brownie points with the new hot hippie temps too!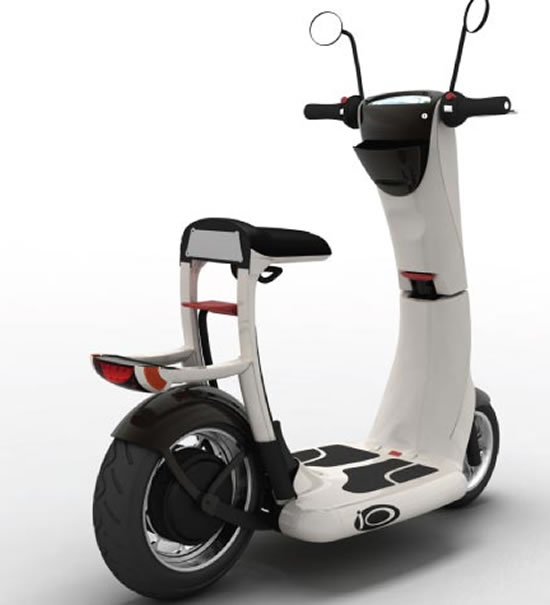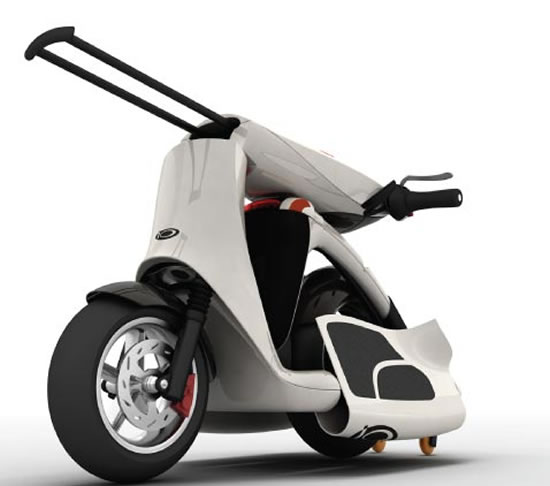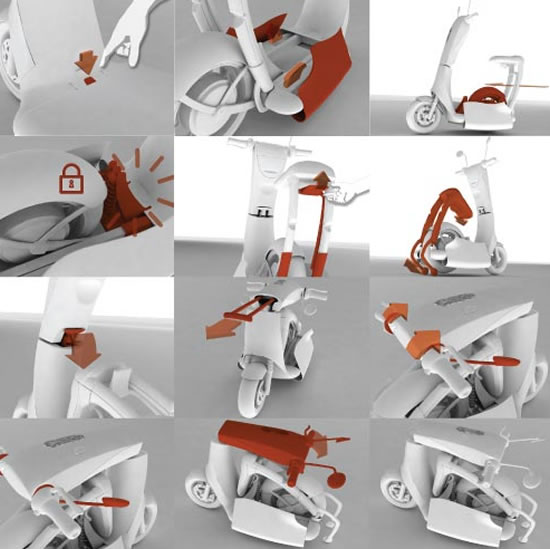 Source: Eco Friend
2. Everywhere by Jaepyung Lee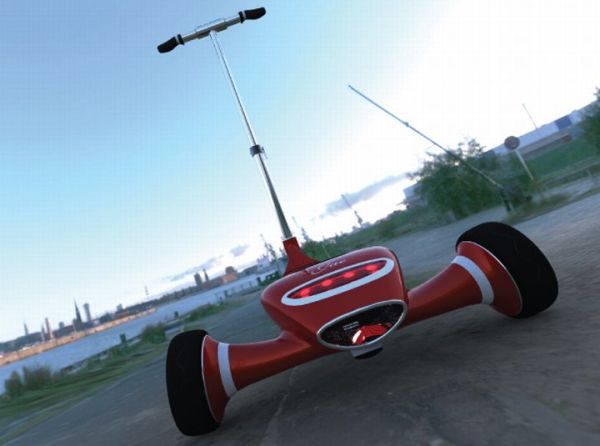 Scooters are getting a whole new avatar and their demand is rising. They are being turned into an electric ride, which not only saves the atmosphere but money as well. Jaepyung Lee, an engineer from South Korea, has designed a foldable electric scooter, christened "Everywhere."
Crafted in a creative manner, the high-end scooter has been fitted with three wheels. The sleek facade has been coupled with LED headlights and tail lights. They will be of utmost use when it gets dark and keep the rider safe. It also has a digital dashboard that will display the speed the scooter is moving at.
This technically sophisticated scooter can be folded easily. It will help you go till the bus stop or metro station and can be carried along. When you reach your destination, unfold it and the handy scooter is ready to use again. Everywhere has been fitted with back wheels that will endow the rider with great balance. The sleek design will make heads turn and leave onlookers impressed.
Via: Jaepyunglee
3. Chameleon Foldable Electric Scooter by Steve Sangik Lee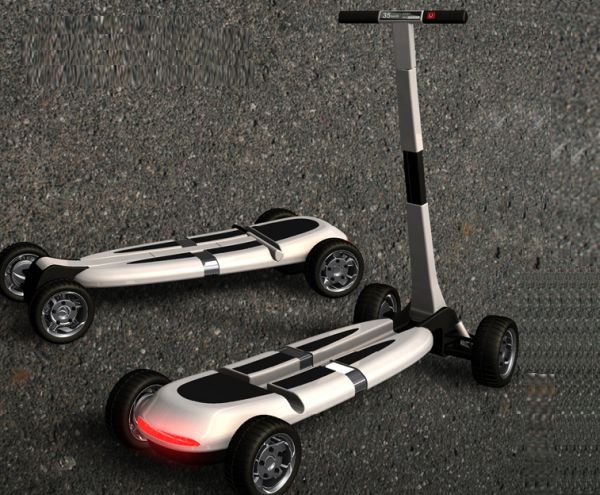 The Chameleon Foldable Electric Scooter actually derives its form from a novel thought. A majority of the scooters in the market only fold up when they have to be stored which may be the practical appeal of the sidewalk transport but it is decidedly less fun.
So designer Steve Sangik Lee decided to come with a concept that would allow the scooter to transform itself and enable an all-new type of usage. The Chameleon takes the already popular fold-down mechanism of the traditional scooter but makes it possible to integrate the chunky handlebar within the footrest's body so that the scooter can transform itself into an off-road electric skateboard.
Via: Design Blizzard
4. Eco-Scooter by Luca Abate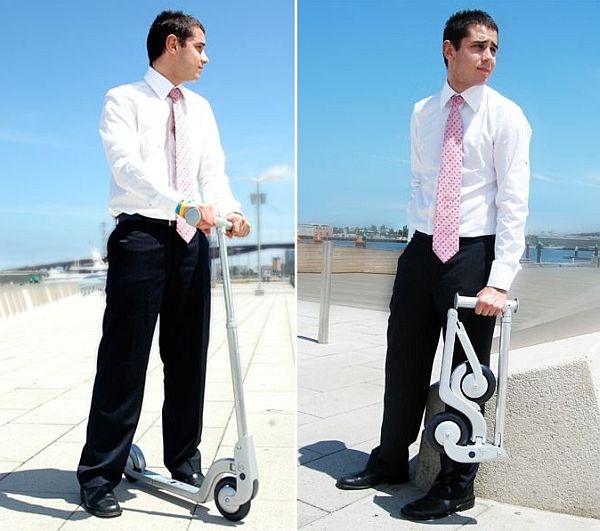 Designed by student designer Luca Abate for the Australian Design Award, the EVO Scooter is aesthetically beautiful and is made from ultra-light aluminum. The total scooter weight is about 9.92 pounds (4.5 kg). The scooter proposes to be able to drive you from the rail station to the office from where you can fold it and take it to your desk and put it away.
A great deal of thoughtfulness has gone behind the conception of this product. The product is stylish, environment-friendly and an attractive alternative to traditional transport. It will be interesting to note how much of a total payload the scooter will be able to carry when it hits the floor. The stand-up electric scooters have been around for a longer time and have improved considerably in their fallacies of design and implementation. The design of the EVO scooter combined with its effectiveness and being ultra light can stand out to be the USPs for EVO.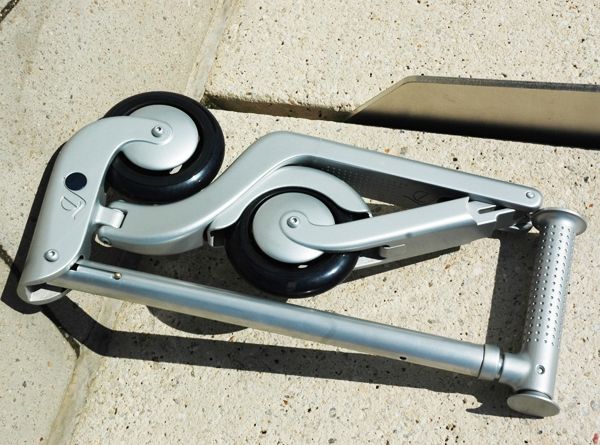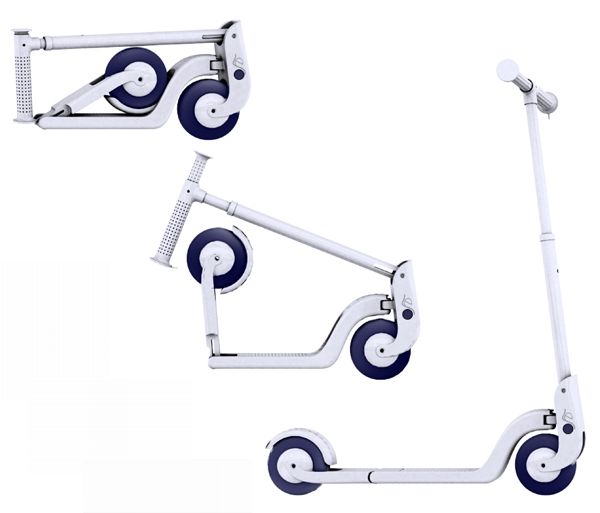 5. Car substitutor Scooter Commuter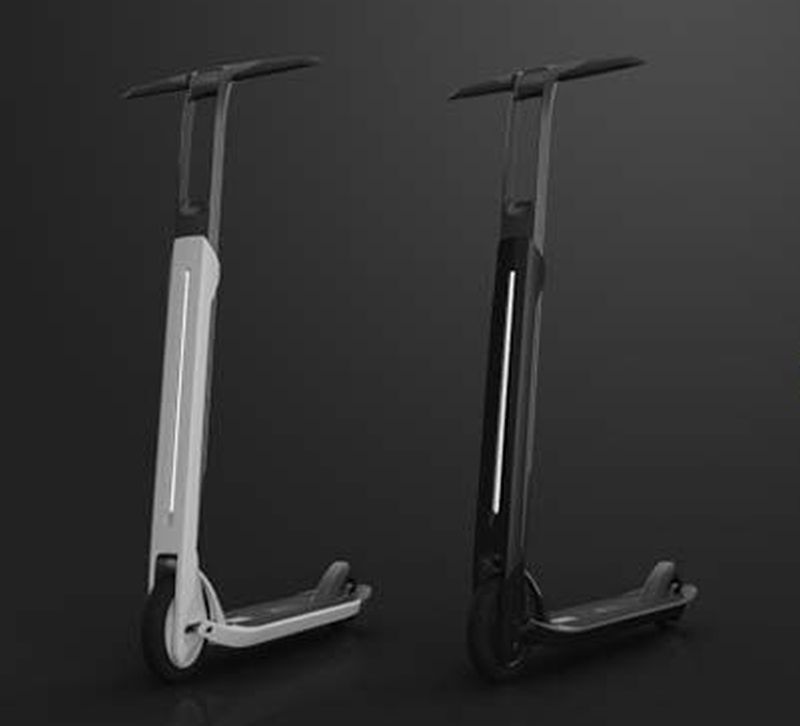 City Go has come up with this e-scooter which has exquisite design and it makes transportation fun and easy. You just need to kick and get started. In order to increase the speed kick again and to stop applying the brakes. It is that easy. This e-scooter has 3 modes Novice, Normal and Sports mode. These modes help you travel at three different speeds. The best part is that this portable e-scooter can be folded and can be carried from one place to another with ease.
6. Stylish Travoler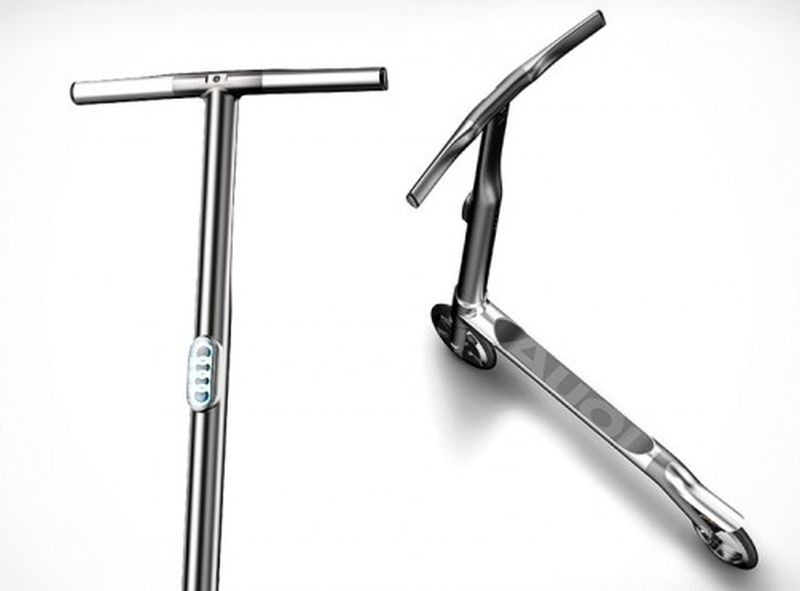 The Audi Travoler by Kyumin Ha has a sleek design and it has a motor, camera, handlebar controls, and rear hubless wheels. It is very easy to dismantle and reassemble this sleek machine. Travolar has a frontal light which helps in illuminating your path. You can also record your driving with the help of the video camera. This video camera is there between the handlebars. This portable scooter surely lets you travel in style and with ease.
7. Urban Scooter
Urban Scooter is designed by DaneilDayag. This scooter has spoken fewer wheels. The designer has labeled this scooter as a high-end e-scooter. The design of this e-scooter is unique and stands out in the crowd. This is an ideal commuting option for short distances. For those who want to have some fun can also try out some backflips, spinning and jumping with this Urban scooter.
8. Electric scooter Lexus CT-S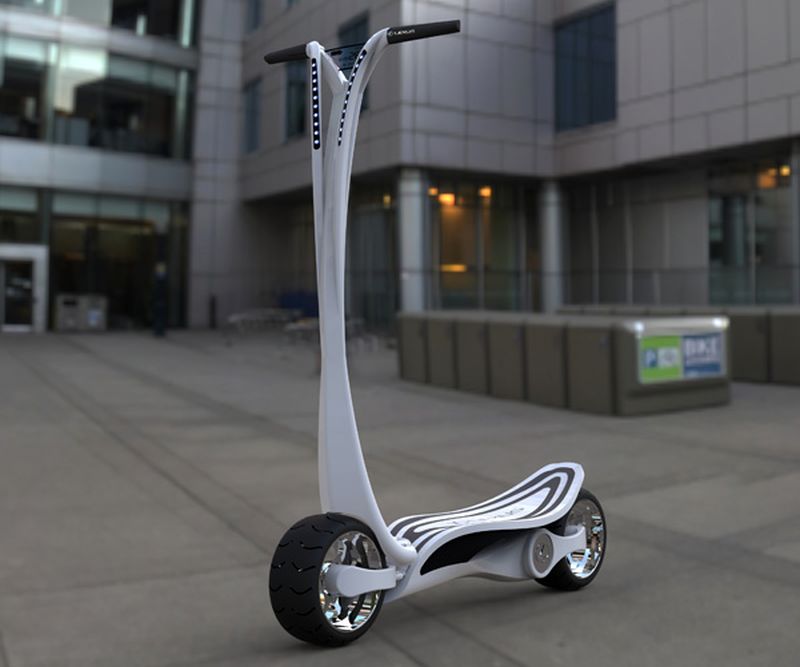 This scooter is designed by Boris Goldberg. It mainly consists of carbon fiber, which has also its use in aerospace. There is a lithium-ion battery which you can charge from 12 V outlets in the cars. It is the general opinion that this e-scooter can reach a speed of 35 km/hour.
9. The SRV-h Concept scooters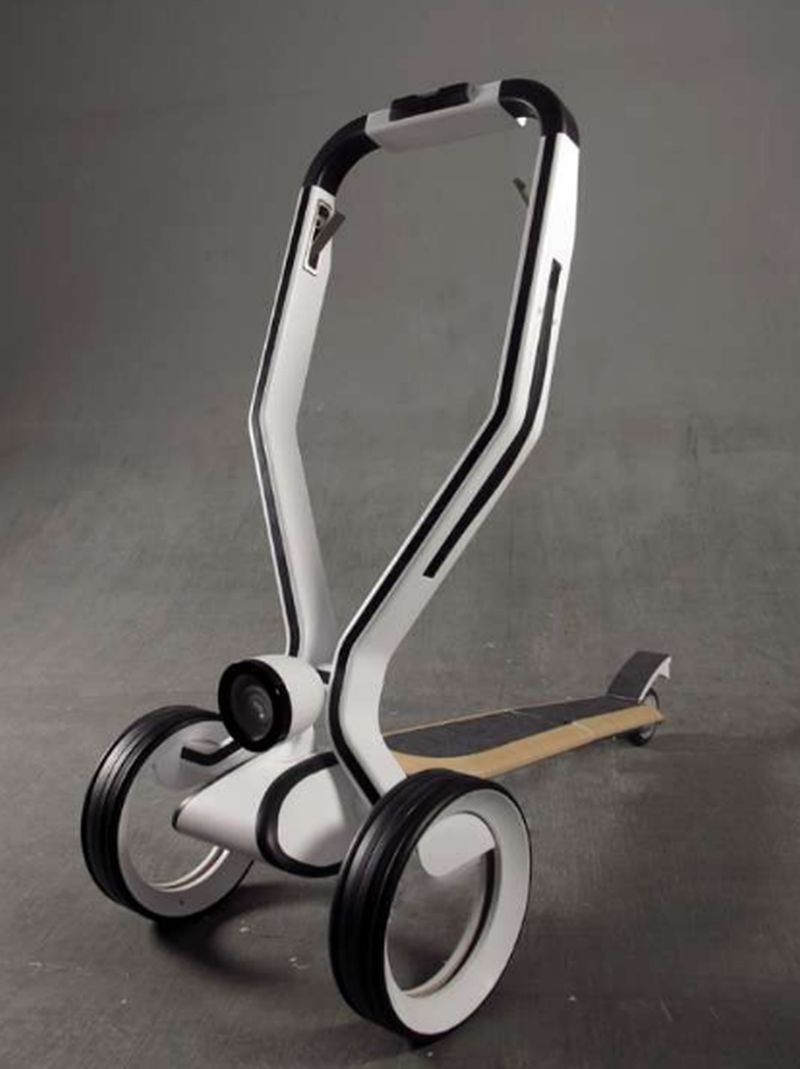 Designer Chiu-Yenkai has come up with this uniquely designed scooter for adults. The best part about this scooter is not its design and speed but the fact that this e-scooter can be converted into a shopping cart. Therefore this unique scooter helps you buy your groceries and helps you shop easily. It also helps in keeping your i-phone safely when you move around. The base is in the form of a skateboard deck.  The design of the wheels is unique and handles are of silver color.
10. The Acton M scooter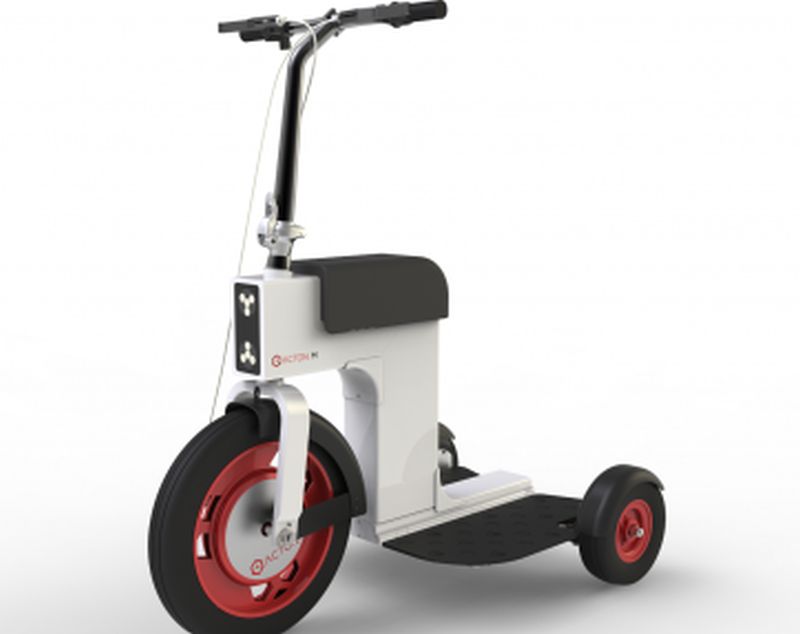 You can easily fold this fantastic portable scooter. It can become of the size of a carry bag with wheels. Hence it takes care of the hassles of parking your scooter. M scooter is light in weight. It weighs just 70 pounds. The speed is around 12 miles per hour. The scooter has a lithium-ion battery. M scooter can run 15 miles with a single two-hour charge. This compact scooter is definitely useful for going to the nearby store or for cruising in the neighborhood with ease. You can ride the scooter either standing up or by sitting down.
Final Words
Scooters are a modest mode of commuting for most of us. But they can be bulky. New technology and innovative ideas have revolutionised the entire concept of scooters. Today we have several modern designs in e-scooters which are not just classy to look at but they also help in brisk full traveling.
This innovative e–scooters are the modes of commuting in the near future. They will surely make short distance travel like buying groceries etc easier and will also help in overcoming the parking woes due to their compact and sleek designs.