Looking for innovative space saving furniture for your modern home? Then look no further.  From levitating furniture to the hideout and illusive furniture, we have listed everything.
Levitating furniture designs are starting to show up in many households these days. These futuristic furniture designs are the perfect masters of illusion. They can play with your mind offering the best in terms of functionality, comfort, and luxury.
These 13 minimalistic pieces of furniture would definitely take your breath away. They look stunning and occupy as little space as you want them to.
13 – Space Saving Minimalist Furniture for your modern homes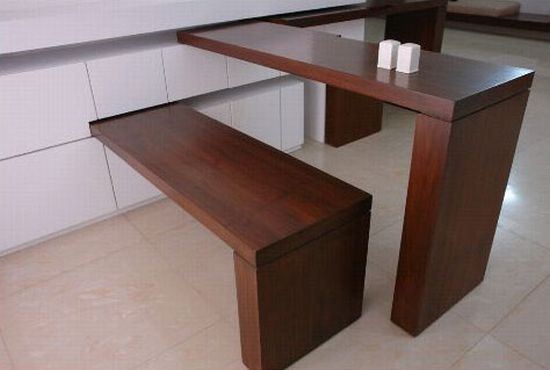 1. Hideout Furniture by Ocher
With modern homes getting smaller in size, minimal designs or products fulfilling all the needs has become a new big for urban residents. Have a look at this hideout furniture by Indian design house Ocher that comes out of the walls to serve as a dining table, breakfast bench or even a workspace. All you need to do is pull different modules from the wall according to your need and requirement of a particular occasion. And when not in use, the tidy furniture neatly folds or slips into the wall to vacate the space for other works. Home furniture can never be as minimal and functional as this hideout furniture.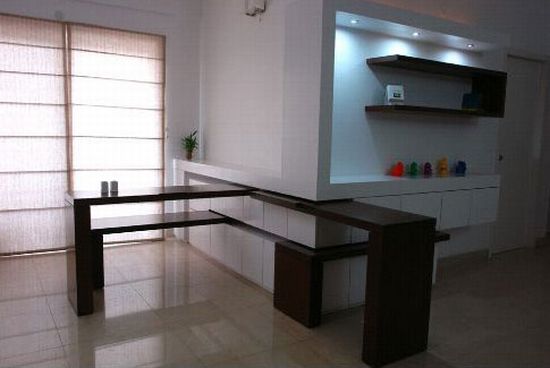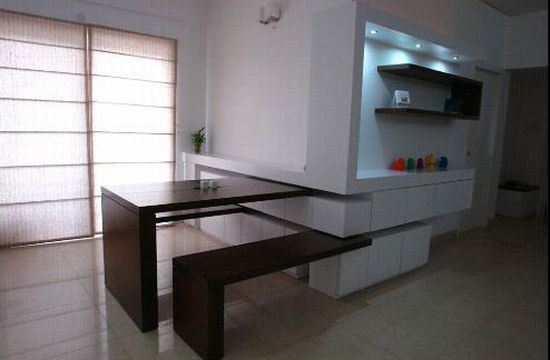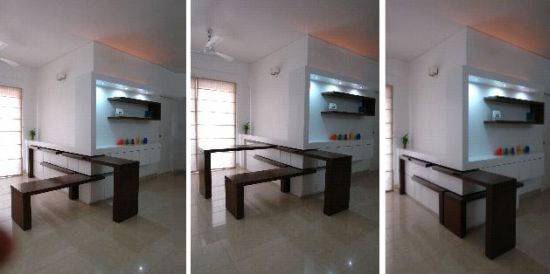 Via: Design-flute
2. Lago Levitating Sofa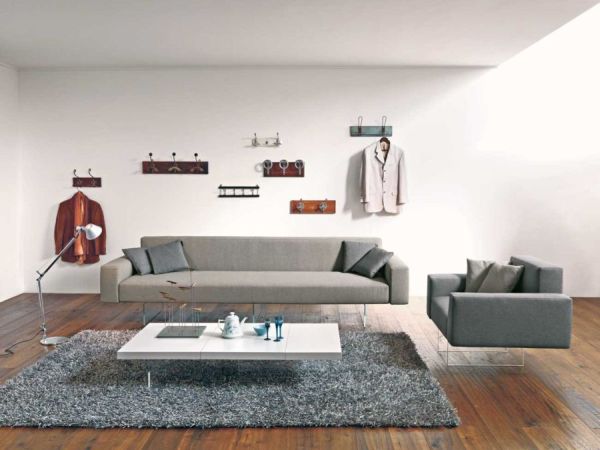 This marvellous design by Lago features a sofa set and coffee table that look like they are floating in mid-air. While it looks like magic, the effect is achieved by glass supports placed at the base of these items. Nearly invisible, these glass panes are sturdy enough to support the weight of the furniture and raise it a foot off the ground.
3. Levitating Dining Table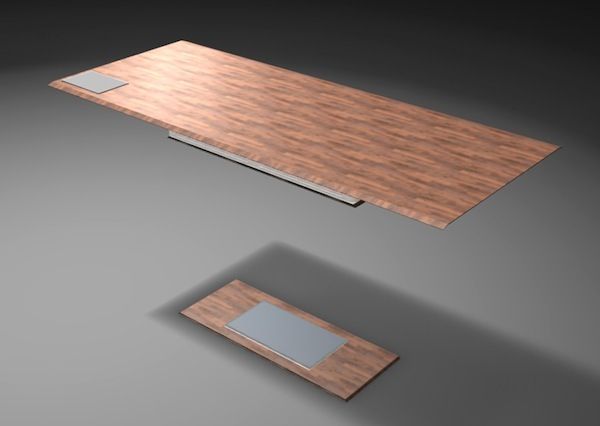 This impressive design features a dining table that actually floats in mid-air without the aid of any of support or suspension. The table comes with a series of electromagnets attached beneath it that are magnetically oriented towards the steel base on the ground. The diner can choose to change the height of the table simply by changing the strength of the electromagnetic field between the table and the base.
4. Cloud Levitating Sofa
Here's another impressive levitating furniture concept that uses electromagnetic force as well. The design features a magnetic base that creates an electromagnetic force strong enough to float a super soft cloud like sofa above it. The actual sofa is designed for maximum comfort and would give you a feeling of literally floating in the clouds.
5. Fade Out Chair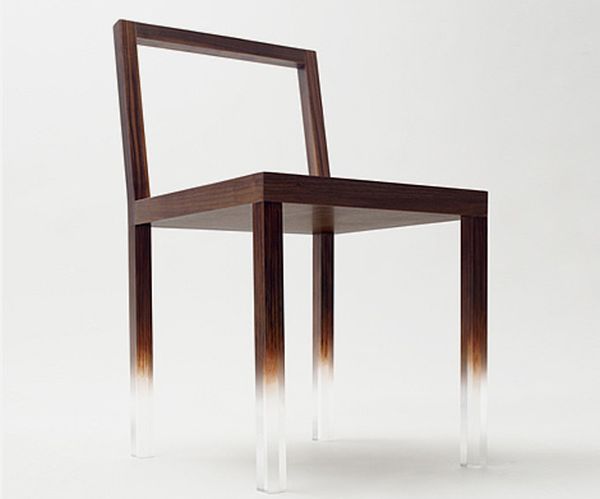 Canadian-Japanese designers Nendo came up with this really innovative levitating furniture design concept that can be achieved as easily as you can say A B C…. The designer used nothing but paint to achieve the levitating effect on wooden chairs. When glanced from a distance, the legs of the chairs would seemingly disappear into nothingness, creating the perfect illusion of levitation.
6. Golden Balloon Levitating Coffee Table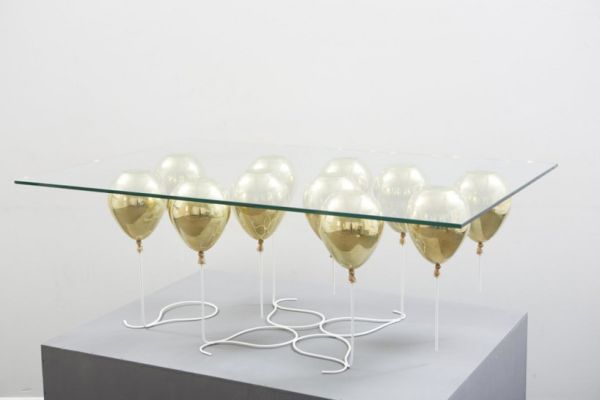 Designed by Christopher Duffy, the Golden Balloon levitating coffee table features a network of golden balloons which act as the base for a glass table top. The balloons are in fact made of steel and are attached to the base of the coffee table via rods. One look though and you will feel as if the glass top is floating on the orbs though.
7. Levitas's EXO Levitating Bed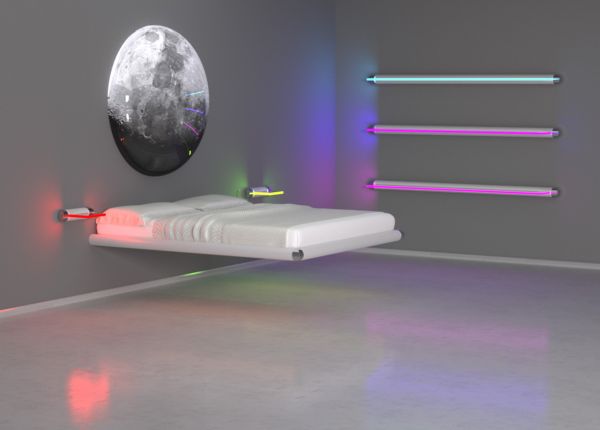 The EXO bed from Levitas is a simple bed that is attached to the wall to create the illusion of simply floating off the wall. Available in a multitude of sizes, the EXO bed also features creative AURO lighting that illuminates the empty space beneath the bed, playing more on the levitation illusion.
8. Xens Coffee Table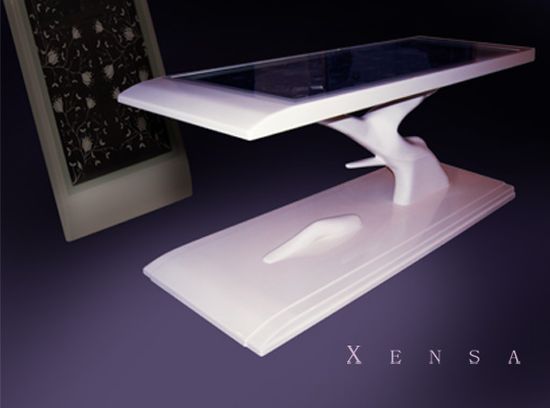 Adding form to functionality, British designer Oliver Stott has come up with a unique coffee table that can not only be used as a regular furniture but also as a piece of art. Named the 'Xensa Coffee Table,' the artistic table integrates modern technology, which allows to figure out two altogether different artistic forms, the table top and the table base, from a single design. Users may also hang both the artworks on the wall as decorative pieces,enhancing their office or living space. The Zen inspired coffee table comes in a variety of color and design patterns. Customers may choose from various hand crafted silk prints and over 500 color variants for their floor as well as wall sculptures. Moreover, the customizable table could be an ideal option for outdoor enhancements.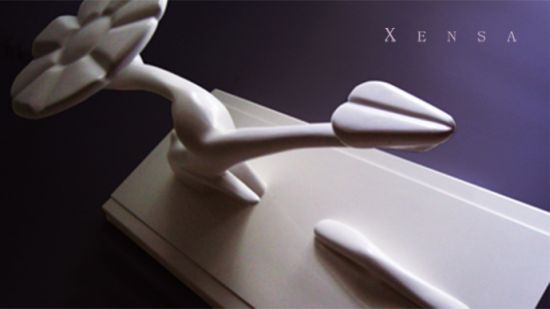 9. The unique chair design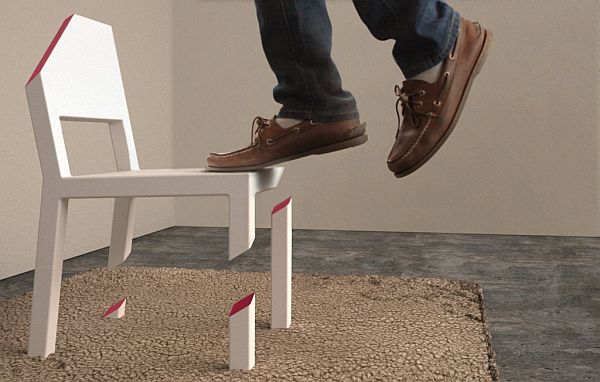 Seattle based designer Peter Bristol is adept at making home furniture that is unusual, and has created a unique chair that creates optical illusion. The three legs of this chair appear to be cut off from the top, whereas in reality they are not. This unique design is a perfect addition to a home décor that requires the element of excitement, and surprise.
10. Chair 3/4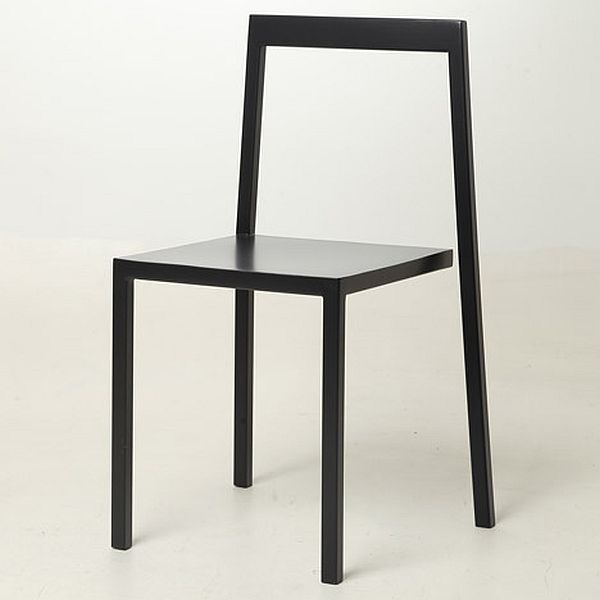 Designed by a Georgian designer Sandro Lominashvili, the Chair 3/4 is an angular steel chair with a seat having four corners. The unusual thing is that only three corners out of four are attached to the frame. The chair looks as if it cannot withstand our weight but it is absolutely sturdy and comfortable.
10. The Black Line Collection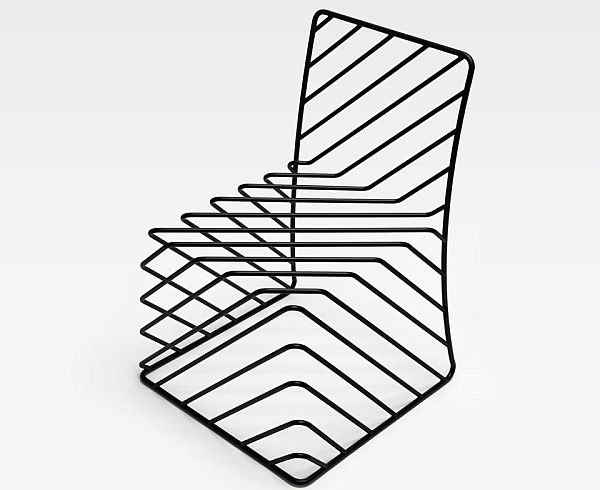 Nendo is a Japanese designer who has designed a collection of 29 unique furniture pieces. All the furniture pieces are made of clack lines and create freaky optical illusions. It is remarkable how Nendo has come up with such designs. These designs are minimalists but appear as two and three-dimensional altogether.
11. Fadeout -Chair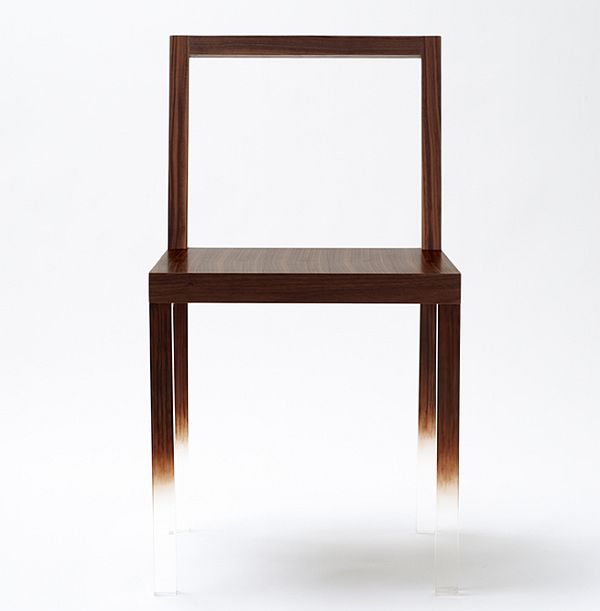 Japanese designer Oki Sato and his team have designed an unusual chair whose legs disappear, as they get closer to the floor. It appears as if the chair has half legs because the bottoms of the legs are transparent. The chair has acrylic legs, which the artisans have painted so cleverly that it looks like wooden legs that gradually fade away. The seat and the back of the chair are wooden.
12. Table Cloth Illusion Table
This stupendous design is a side table that gives an optical illusion of a tablecloth. It is a handcrafted piece designed by John Brauer, and produced by Essey. It is a beautiful creation made of 4mm acrylic. The round shaped acrylic table has a flowing design of a tablecloth.
13. Shadow Chair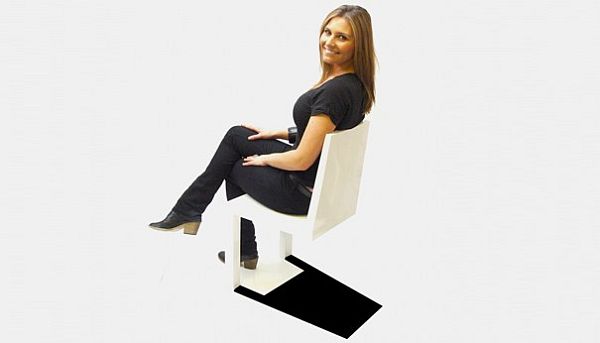 Shadow Chair is an innovative design created by Duffy London, which defies gravity. A mere glance at the chair would make you feel as if the chair stands only on the front two legs. It has a shadow beneath, but on taking a closer look you will find that the shadow is not real, and is an integral part of the chair.
Summary
All of us love optical illusions. They trick our eyes, as in they make the things look different than they are in reality. Such illusions fascinate us. Some designers have done a commendable job, as they have designed furniture pieces that create optical illusions.