'Due to its revolutionary design, Mp3 player creative has stood the test of time and is still one of the most popular portable music players. With this device, all you need is a bunch of portable wireless speakers and your music system is complete. Here is all you might want to know about the device plus the wireless speakers that best complement it.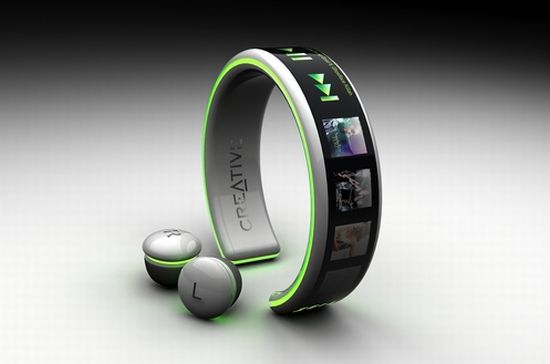 Much like his Fluid Smartphone, Brazilian designer Dinard da Mata has developed another wearable gadget that becomes a fashion accessory to complement the style of next-gen users. Hailed as "MP3 Player Creative," the portable music player features a flexible OLED screen that other than displaying the playlist also lets the user select the song or control volume with just a touch of a finger. Worn around the wrist like a bracelet, the MP3 concept gives easy access of the functions to the user. In addition, the sleek music player includes wireless headphones to offer clutter-free music on the go.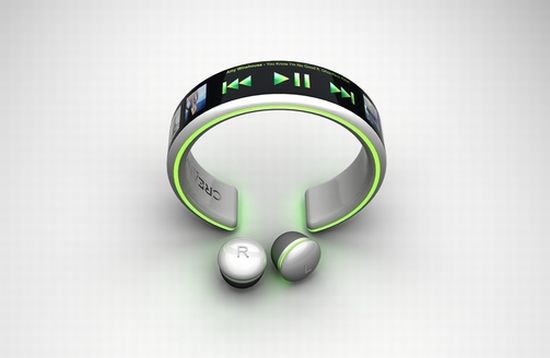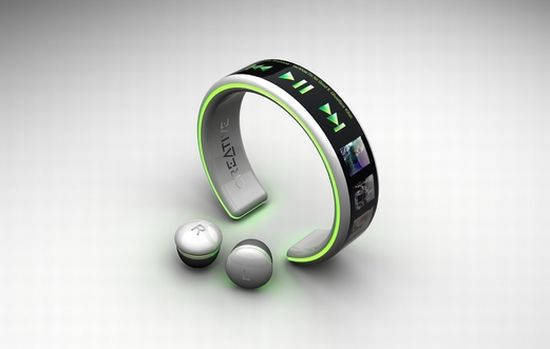 [Thanks Dinard]
Best Wireless Speakers to Complement 'Mp3 Player Creative'
Be it outdoor birthday party, picnic, a small barbeque get together, unless there is some sort of music blaring from the speaker, the party remains colorless. With the help of latest technology, that is not very difficult. You can have your own DJ with the help of your 'Mp3 Player Creative' and wireless speakers. You can choose the speaker of you need from unlimited varieties of speakers available in the market.
1. Bose SoundLink
With the shape of a clutch purse, this speaker is fit for any outdoor party. It is provided with a lithium battery and you can play music for up to 8 hours. There is a front flap of nylon, available in four colors. As soon as you open it, the device goes into Bluetooth pairing mode and searches for your Android, tablet, iPhone or any other device. It has a memory of up to six devices. Now you can listen to good quality music on the go with this system.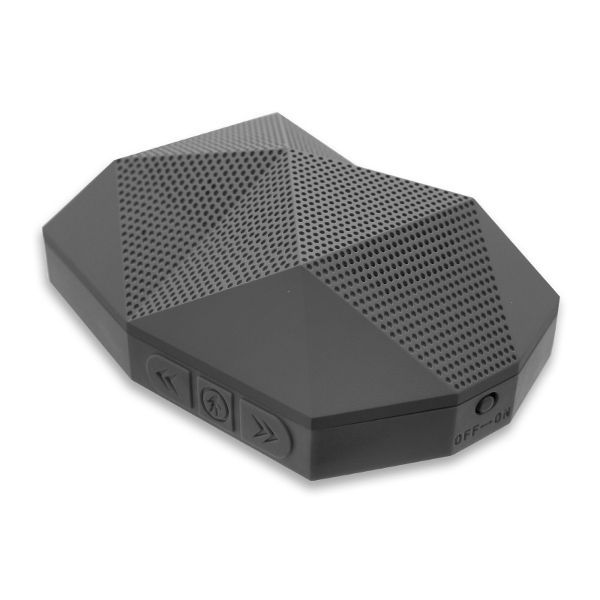 2. Turtle Shell
This sturdy wireless speaker by Outdoor Tech is water-resistant, dust-proof, and shock-proof. Available in many colors, this Bluetooth enabled device can connect you to your smartphone, tablet, or any other Bluetooth enabled device. It has an audio range of up to 30 feet and can run for 9 hours on a single battery charge. It can be mounted on a bike and you can listen to any kind of music on the go.
3. Big Jambox
This stainless steel portable device has a built-in microphone that lets you enjoy music whether you are working in the kitchen or your backyard, and allows you to make hands-free calls or video chats. Its three dimensional sound is clear and crisp. You can stream your Bluetooth device, and control the Jambox from anywhere in the room, or use the buttons on the top. Available in graphite, white and red colors, it can run up to 15 hours per charge and has a range of 33 feet.
4. Libratone Live
This Scandinavian sound system has a minimalist design and high-quality raw material, this décor friendly device fits anywhere in your house and adds to the aesthetics. Available in many colors, it comes with a handle for easy pickup. Its triangular design produces 3600 sound. So now you can wander free anywhere in the room, and customize the soundscape to match your room.
5. The Outcast
The large portable outdoor full-range speaker is a high definition audio system. You can listen to your iPod, iPhone, Android, MP3 player or any other analog audio source with this all-weather speaker system. With a rechargeable battery of life of 10-20 hours per charge, you can be sure of listening to music uninterrupted for many hours. Sold with an iDevice dock, and multidirectional speaker, and 100-watt digital amplifier, it pumps out loud music which can be heard up to 300 feet. With a weight of 25lbs, it is not so light but is truly a joy for any outdoor party.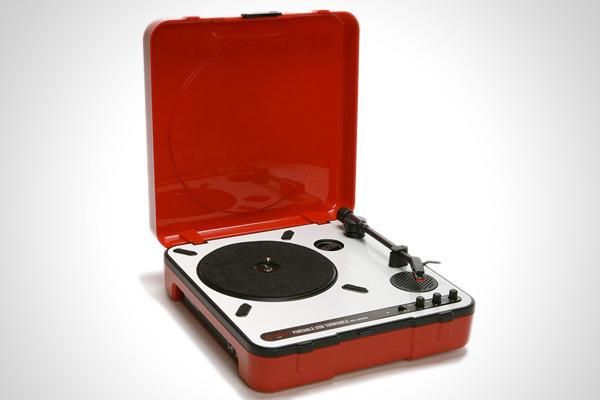 6. Mobile LP from ION
In this age for high mobility, this device can turn your favorite vinyl into MP3 files, and you can listen to the track wherever you are. With a protective dust cover, this device has old world charm and new age features. It has a carry handle to carry it anywhere easily and enjoy LPs. It can operate on batteries or you can plug in and connect it to your computer, and listen, make custom playlists, or transfer your music to your iPod or MP3 player.
7. IPEVO Tubular wireless speakers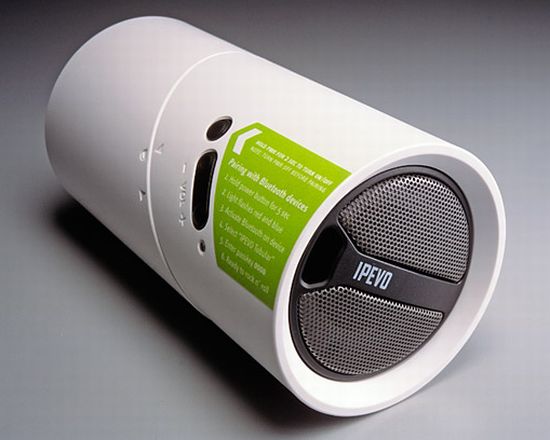 Coming from the house of IPEVO, the Tubular wireless speakers as the name suggest, is a set of three-watt speakers that lock together to form a tube, allowing the two-way stereo sound. Users can separate and rejoin the speakers with a gentle twist. Compatible with all Bluetooth-enabled devices, including personal computers and laptops, mobile phones, iPods and the next-gen iPod touch players, the speakers come integrated with three buttons, one for turning it on/off and Bluetooth pairing and the other two for controlling volume, which can further be used to navigate through tracks and carry out the play and pause functions.
Powered by a rechargeable lithium-ion battery, the Tubular plugging into any standard USB port (for about 2 hours) allows up to 8 hours of nonstop music on a single charge, while it presents the standby time of up to 100 hours. Priced at $79, the speaker tube measures just 2.5 x 5.5 x 2.9 inches (75 x 140 x 75 mms) and weighs 9.5 ounces (270 grams), so the users could move it with them for surround sound anywhere, anytime.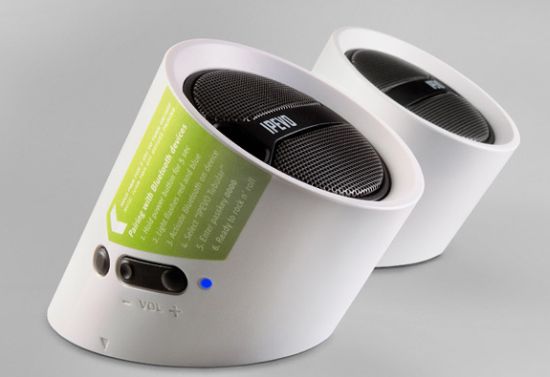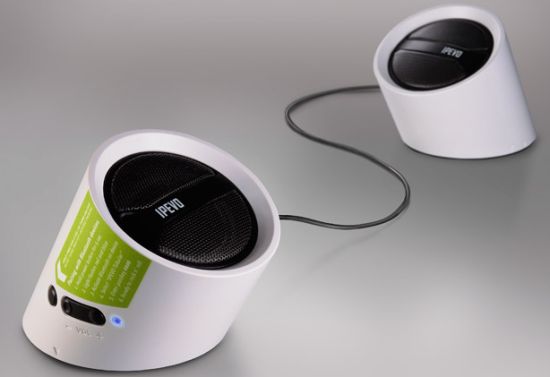 8. Cube 2.1: Wireless speakers
Designed by Joao Carneiro, the Cube 2.1 is a portable speaker system that lets music freaks enjoy surround sound on the go. Boasting two 360º speakers with a sub-woofer, the Cube 2.1 not just makes a good speaker system for personal use, but it can be used for professional sound reproduction as well. The wireless speakers come in a compact measurement that you may neatly wrap in a 25 cm cube, thanks to its rechargeable battery, for easy transportation. The USB plug-and-play feature turns the Cube 2.1 into a powerful docking station for your MP3 player, TV or even PC. Above all, users may amend the sound perception by locating the speakers in different positions.
9. Air-Stereo Wireless Speakers
Wireless speakers are the quintessential love of music addicts. But this wireless beauty will appeal to everyone, am sure. Presenting Air-stereo, the portable Bluetooth speakers. Yes, you read it right – it is wireless and operates through Bluetooth. The added advantages which make these invincible are many. The speakers have a self-charging unit, which makes it easy to charge and carry. What's more, you can stack them together when not in use. Speak of ergonomics eh?
So, how does it work? Well just connect it with your laptop or music player through Bluetooth and you are good to go. The speakers have an inductive charging base. The charging technology uses an electromagnetic field to transfer energy from the base to the speakers. Finished in black, these speakers are available in width and height of 60 mm. The device is compatible iPhone, iPad, Mac, computers, laptop, phones and music players which have Bluetooth support.
Well, I am impressed with this beauty. Just connect it with your device and you have high definition sound with crystal clear clarity. What amazes me most is the powerful design. I can't wait to own one of these. What about you?
Via: IDSketchbook