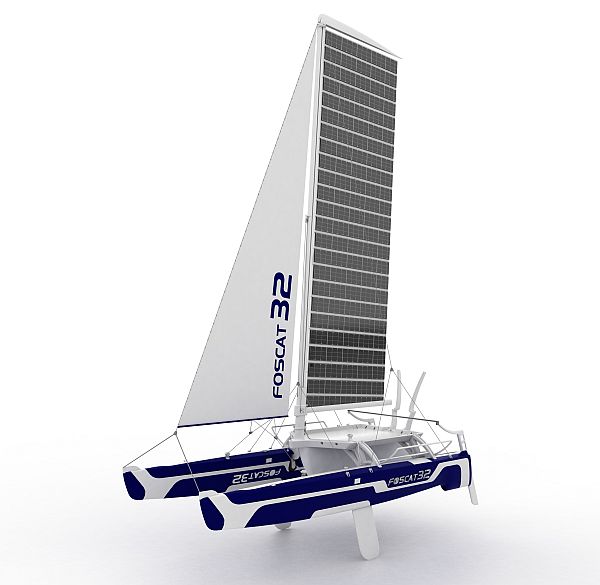 The Product:
FOSCAT-32, the Folding Solar Catamaran is a sailing vessel which will help you cover miles of water, by exploiting natural energy from the wind and sun. The vessel ranks high on performance as it uses a lightweight system. With an all-weather navigation capacity, Foscat-32 is nearly a zero emission vessel which means it is eco-friendly. This fast sailing boat will prove to be an apt recreational option.

Unique Properties:
The release of carbon dioxide while sailing can be brought down to almost zero if instead of non-renewable sources of energy, power from the sun and wind are brought into play. Making this a reality is Hybrid marine technological improvements. Solar energy and wind power are used in a seaworthy style. FOSCAT, a new alternative concept cat sail-vessel, doesn't make use of fuel and still is quite capable when it comes to performance. The sea is filled with energy options but most of the time it is not tapped properly. Sailing which is mostly done for fun and relaxation should not pollute the calm environment, so an alternate source of energy is a blessing. The combination of materials with alternate sources of energy will be the solution to a lot of problems, that we may face in the near future. The dual non-polluting and eco-powered characteristics spread awareness about the environmental threats.
The Design:
The FOSCAT (folding solar catamaran) has been crafted for fast sailing and to give great performance, that too sans any fuel consumption. This eco-friendly and stable cat sail-vessel has the capability to make big waves smoother and less significant, thanks to its exceptional hull shape. Dagger boards have been swapped with skegs that make sure the vessel is nothing but absolutely secure, irrespective of what kind of waves it faces. The hulls are foldable and light in weight. FOSCAT is one of the first folding cats. Once the hulls are snapped down, they rank easy on handling. Such a feature makes it low on maintenance and storage as well. Be it a dock or a sand shore, they can be folded without much difficulty or added pain. With the help of folding rudders and mast, the hulls can be pulled back effortlessly.
Material And Production Technology:
The FOSCAT-32 has been crafted using novel construction ideas and new materials. This made sure that the vessel drops down in weight and hydrodynamic resistance, without compromising on its performance and resilience.
The hull has been carved out using the fiber molding technique, which ensures suppleness, toughness and steadiness. Double layer carbon fiber and epoxy resin have been amalgamated to make the casing of the hull. Giving birth to rigid, lightweight and highly hard-wearing compound body configuration, is the laminated hull. This creates a carbon symmetric sandwich panel when the hull body is laminated with a carbon-foam core. It makes good use of solar and wind energy. So, when the sun doesn't shine the power of the wind will make sure that the FOSCAT remains sailing.
The Main sail has double layer solar cell panels (supple photo-voltaic panels) on either side. Electric motors are powered by small batteries which are charged by these solar panels which further pump the tubular side propellers. The position of these motors increases the navigation performance to desirable levels. Just because of the materials used to craft the vessel, which are durable and flexible, it can easily face any kind of weather conditions.
Technical Detail:
The FOSCAT measures 32' in length and 52' in height. It has a solar panel which is a 95 m2-double layer. This panel is placed on the main mast, which has two DC electrical engines strapped on it. These electrical engines have been positioned in the hull.
Via: Adesignaward